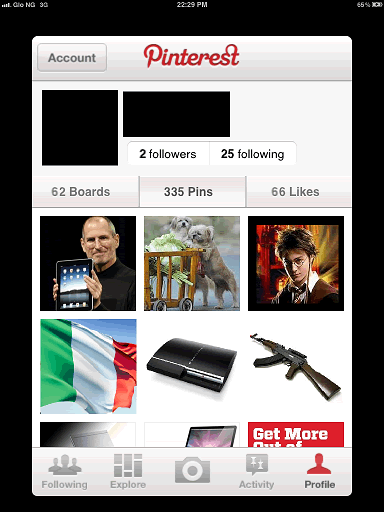 Pinterest is no doubt the most talked-about site and social network of the latest months. Allowing its users to easily create "pinboards" of images, links and notes on essentially any topic, the site spread virally among its users and was mentioned on most US mainstream news sources as the latest "Internet phenomenon".
Some of its users use Pinterest as a notepad, to quickly jot down ideas and must-do, must-see and must-buy lists. Some others use it in a more passive way, simply following other users' "pinboards" for inspiration and ideas.
Having spawned such an interest, it was inevitable for the site to also get its own dedicated application. On top of the basic browsing, "pinning" and linking functionalities, the mobile app also allows you to take a picture and "pin" it directly to the board of your choice.
The app is free and rather basic, but it seems that this was intended by its creators: just like on the web, also on mobile Pinterest is simple, yet really nice and fun to use.
The navigation and layout of the app focuses on the images uploaded by the users, and tries to interfere with them as little as possible, but still allowing its users to easily navigate through different boards and easily discover, create, share and like different content.
Focusing on mobile capabilities, the official application is not yet available for Windows Mobile, Android or iPad version, but only for iPhone.
Android and Windows Mobile users should not worry though: both markets list unofficial apps that allow users to access pinterest via its APIs, which they can use while waiting for the official announced releases also for Windows and Android systems.
The most popular unofficial mobile application for Windows Mobile is no doubt Pinsation, a rather simple app allowing users to browse and update their pinboards. The application is free but contains adds, which can sometimes be distracting and obtrusive.
On Android devices, the most popular unofficial apps are instead Pinterest For All (free) and Pinscape (0.99 USD). Both applications allow you to easily access, browse and annotate your boards, even though they do not allow you to directly pin the pictures you take with your mobile like the official iPhone app does. This functionality, however, is provided by a dedicated app: Photo to Pinterest (free).
Guest post by Mary Johnson from TradeStable.com.ng with classifieds ranging from used cars to real estate and jobs.
Please rate & share this article to help others. Thanks
You'll also like: