Black Friday is three days away and if you've been thinking of shopping Apple for great discounts/bargains, you might want to look elsewhere as what Apple is offering directly to customers doesn't look exciting at all. They are keeping the money within the company and doing non-US customers no favours. lol
They are giving out limited quantities of Red iTunes gift cards with each purchase of a particular Apple product. These iTunes cards can only be used  on U.S versions of the iTunes Store, Mac App Store, App Store, and iBooks Store.
When you buy any of the iPhones and iPads listed below, you get a $50 Red iTunes Gift Card
iPhone (excluding iPhone purchases from the Apple Online Store for $0 up-front pricing)
– iPhone 6 Plus
– iPhone 6
– iPhone 5s
– iPhone 5c
iPad
– iPad mini 3
– iPad mini 2
– iPad mini
– iPad Air 2
– iPad Air
When you buy any of the Macs listed below, you get a $100 Red iTunes Gift Card
Mac
– iMac
– MacBook Pro
– MacBook Air
– iMac with Retina 5K display
– MacBook Pro with Retina display
When you buy any of the iPods, Apple TV and Beats by Dr. Dre listed below, you get a $25 Red iTunes Gift Card
iPod
– iPod touch
– iPod nano
Apple TV
Beats by Dr. Dre
– Beats headphones
– Beats speakers
In my opinion, you're better off with Best Buy and Target's Apple deals for Black Friday.
You can get further details about Apple's official Black Friday offer by clicking here.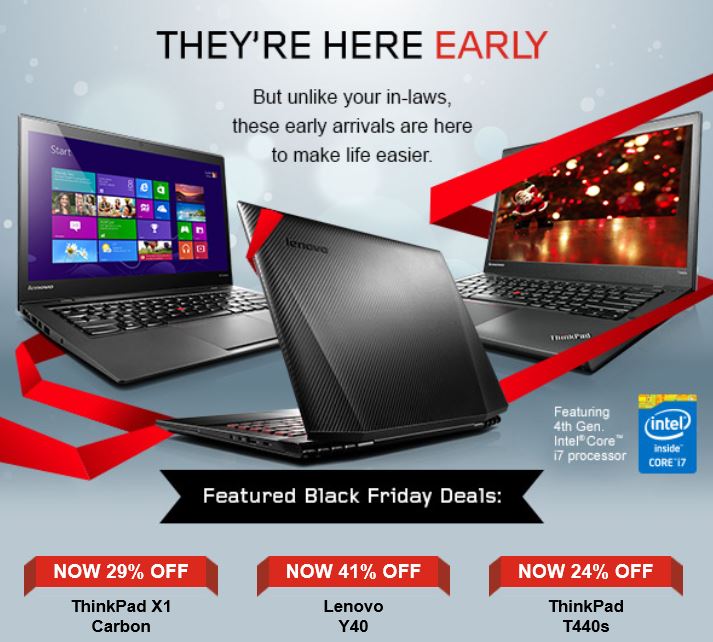 On the other hand, Lenovo is offering up to 56% off selected PCs and 35% off selected tablets on their site. These offers will be up till 30th of November and come with free shipping and returns.
If you're interested in their recently launched 8″ and 10″ Yoga Tablet 2, now is probably the time to get them for 20% off.
Do have a wonderful Black Friday Shopping Experience. Due to unforeseen circumstances like the lack of a reliable US to Nigeria shipping company, I'll be sitting this one out.
Please rate & share this article to help others. Thanks
You'll also like: