Black Friday is still more than a week away but retailers have started announcing some of the deals that will be available come that day.
Target USA for example is offering gift cards of up to $140 per iPad purchase though only limited quantities are available as shown in the image below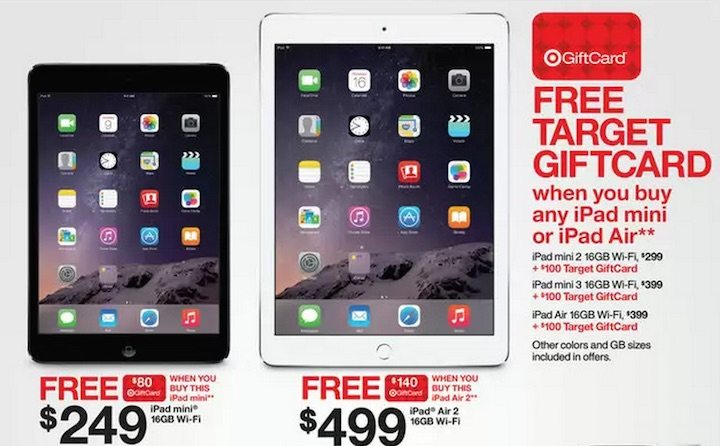 For the iPad Air 2 16GB WiFi you pay $499 and get a $140 Target Gift Card while for the iPad mini 16GB WiFi, you are expected to pay $249 and get a $80 Target Gift Card.
Best Buy on the other hand is offering $75 off all iPad mini 3 models starting at $324.99 for the 16GB model. Apple's latest iPad Air 2 isn't left out of the deal as a $100 discount applies on each purchase starting with the 16GB model at $399.99.
The latest model of  the 11.6″ Apple® – MacBook Air®  with Intel Core i5,  4GB RAM & 128GB Flash Storage also gets a $100 price-cut bringing it down to $779.99 while the 13″ Apple Macbook Pro with Intel Core i5, 4GB memory and 500GB HDD is down by $200 for just $899
Apple is yet to announce their Black Friday and Cyber Monday deals. Hopefully they will be better or on the same level with what Target and Best Buy are currently offering.
If you have ways of shipping goods from the US to Nigeria and other parts of the world, I highly recommend you put a lid on your spending for now as the deals will only get better come D-day ;)
UPDATE: Walmart will be offering the following iPad deals:
$199 16GB iPad mini and free $30 Walmart gift card ($40 off)
$398 16GB iPad Air and free $100 Walmart gift card
Please rate & share this article to help others. Thanks
You'll also like: