There's some kind of confusion with regards to how BBM PINS work. On Blackberry devices, PINs are attached to the device and when you change devices, your PIN changes as well. Well the same applies to BBM for Android. Whatever PIN you're assigned while using the app in your Tecno Phantom A2 (example 7F56GH68)  will not be same when you switch to a Samsung Galaxy S4 (example 76FG6K9).
Any other person, who uses the Tecno Phantom A2 after you, will be assigned that same PIN you had in the beginning (7F56GH68)…….if I'm not mistaken.
Not to worry though, your contacts are not attached to that PIN but to your BlackBerry ID so wherever you choose to use that ID, all contacts that were added to it would be synced automatically. Also when you switch devices, your new PIN will be automatically updated on your contact's device. That is the new PIN will replace the old one.
Neat ain't it?

Hmmmm, thinking about it now, it would be nice if BlackBerry launches some form of BlackBerry Protect service attached to BBM for Android. That way if anyone steals your phone and uses the same for BBM, you can track him/her down using the cloud service or even the PIN attached to that device since it is unique to that device. Hopefully the service won't be free on Android (sorry guys, BlackBerry needs to generate much needed funds somehow)
How To Locate Your BlackBerry PIN On BBM For Android and iOS
Simply click on your profile to view the change status and profile picture page. Your PIN is right there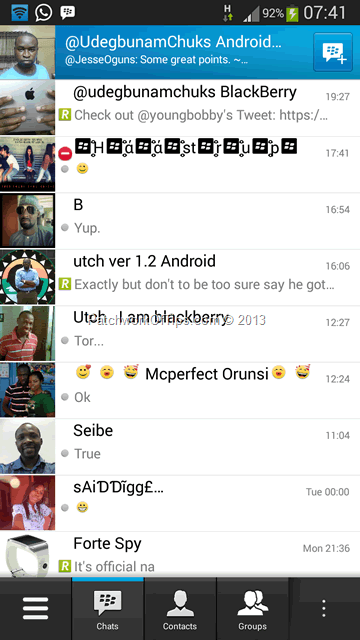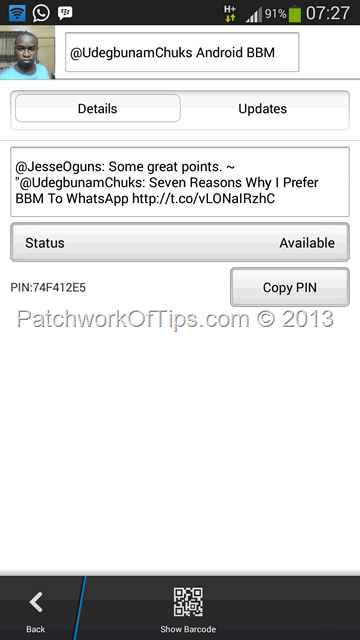 If you wish to locate your contact's PIN, simply go to their profile and click on Show Barcode at the bottom of the screen.
Have a great day guys.
Please rate & share this article to help others. Thanks
You'll also like: