One can't say BlackBerry isn't moving fast enough given the major improvements/changes the BlackBerry 10 OS has undergone in less than a year of launch. The latest leak finally breaches the gaping hole left by the lack of apps……you can now install android APK file directly to the phone from your SD card, the internet or 1Mobile without the need of conversion to bar files.
I've been running the leak for over 3 days now and it's pretty impressive with no major bugs in my opinion (I did a clean install and setup without restoration of backed up data to avoid any issues)
Download BlackBerry OS 10.2.1.1055 your specific device and model
WARNING: Installing OS leaks could brick your device. Proceed with caution. To ensure seamless downloading, I highly recommend importing the files to your own Mega.co.nz account then downloading the file from there. Here's How to install a leaked OS on BlackBerry 10. Endeavour to charge your battery up to 100% before commencing leak installation. If you have wrong battery percentage after installing the leak, remove the battery for 1 hour.

You can make use of MegaDownloader to download the OS from Mega.co.nz. It seems to allow for pausing, stopping and resuming of Mega file downloads.
Revamped BB 10 Quick Settings
This is my best feature of all. You can now access Hotspot, Flashlight, Flight Mode, Switch off Mobile network, Device monitor, NFC, Tethering etc directly from the dropdown settings menu. This can be configured via System Settings >>> Quick Settings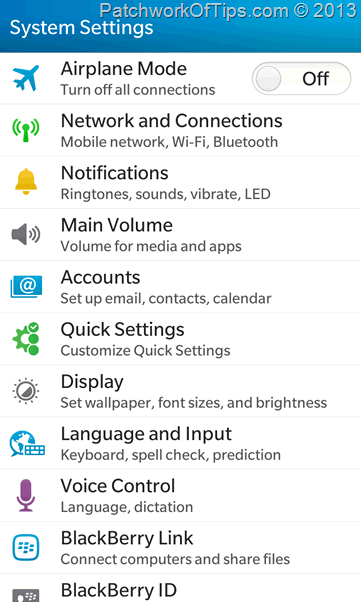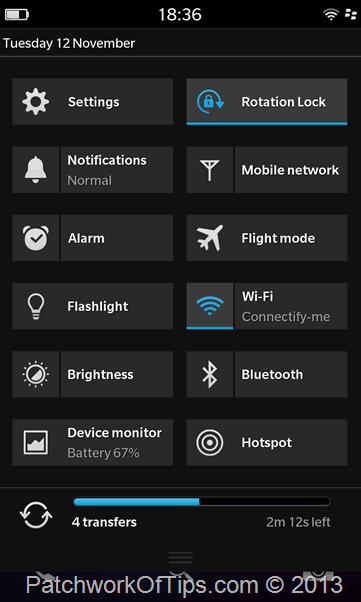 Picture Password
BlackBerry 10.2.1 now allows you setup a Picture Password to unlock you device. Simply drag your pre-selected number of choice to your pre-selected location of choice on the image to unlock your device. Pretty neat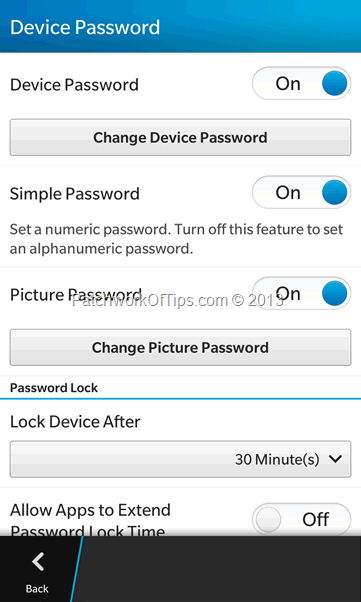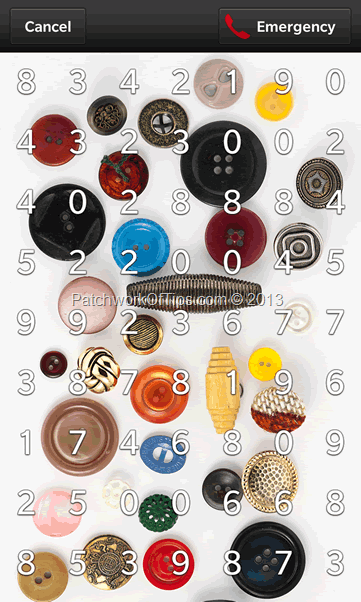 Install Android APK Files Directly
You can now directly install APK files without fuss from any source. No more conversion of Android apk files to BAR. Personally I use 1Mobile.com which even helps you update the android app installations. Blackberry does issue a warning with regards to installing apps that are not from the BlackBerry Appworld so be careful which apps you install. Android is rumored to be a huge malware magnet.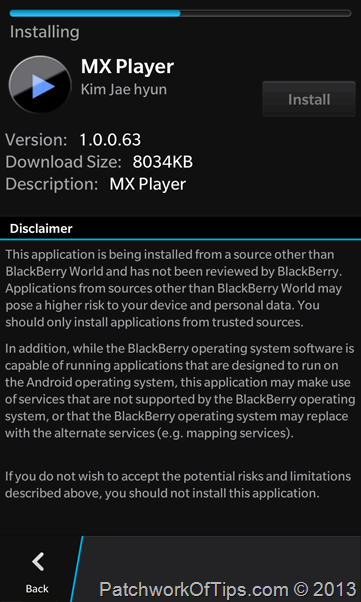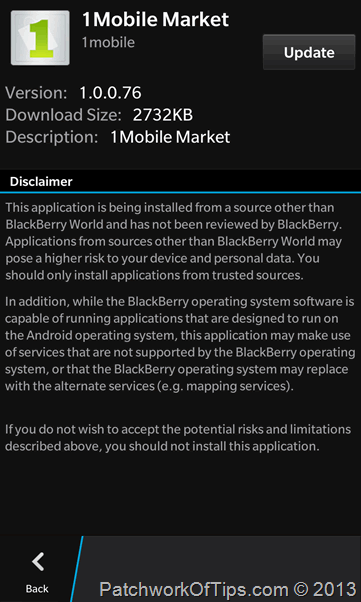 If you get an error like the one below, simply hit cancel every time and the installation will proceed. Also removing your battery for a minute should get rid of this error permanently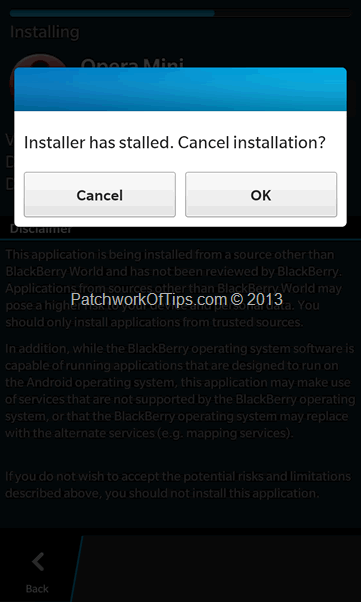 Autoupdate BlackBerry 10 Software Over Wi-Fi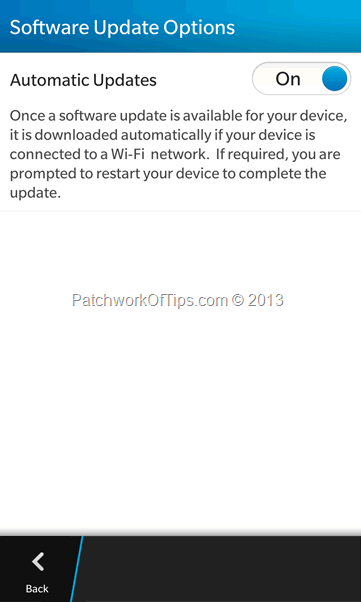 Swipe Between Emails & Delete Emails From Server
You can now swipe easily between emails without going back to the Hub and you can also delete emails from the Hub or from the hub and server as well. Unfortunately you can only do this for one email at a time.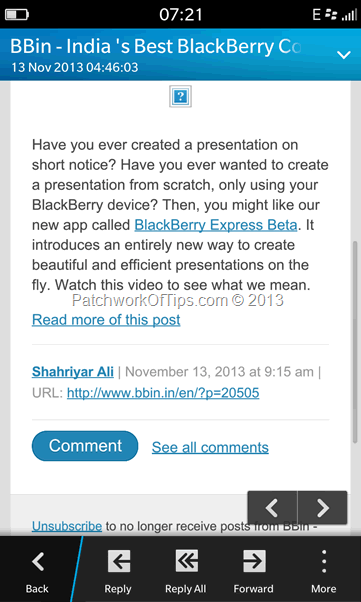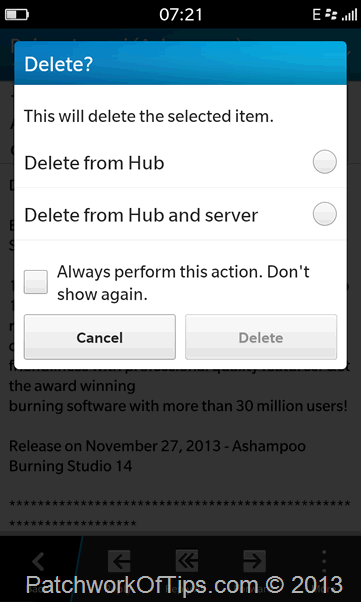 BlackBerry 10 Device Monitor
Just as we have on the Android platform you can now tell which process or app on your device is using up way too much battery etc. This feature almost replaces the need for Battery Guru for BlackBerry 10 app
Swipe Left and Right To Take Calls
Answering calls on BlackBerry 10 just got easier. Simply swipe left to accept a call or right to reject the call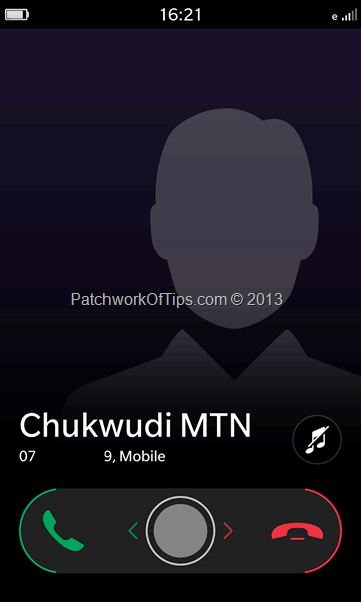 Battery Percentage
You can now view the battery percentage left on the lock screen or by swiping up while using the device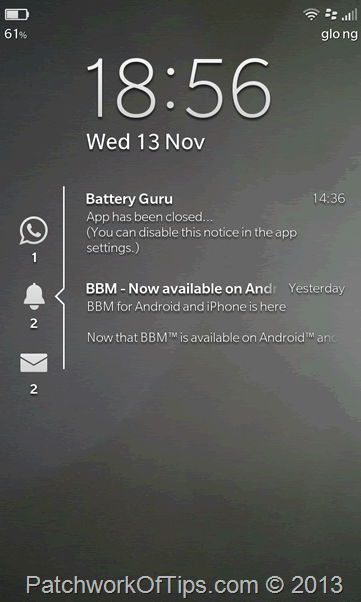 8 New BBM Emoticons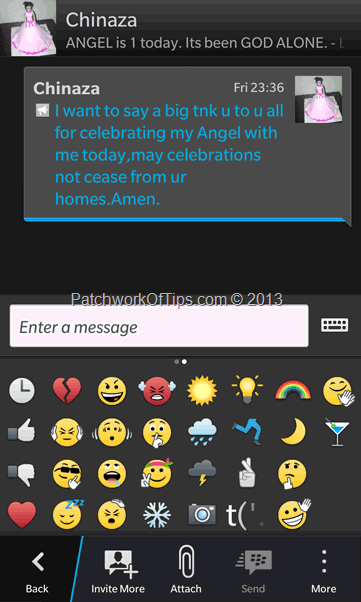 More Twitter Notifications In The Hub
You can now configure Twitter to push alerts of new followers, retweets and favorited tweets to the Hub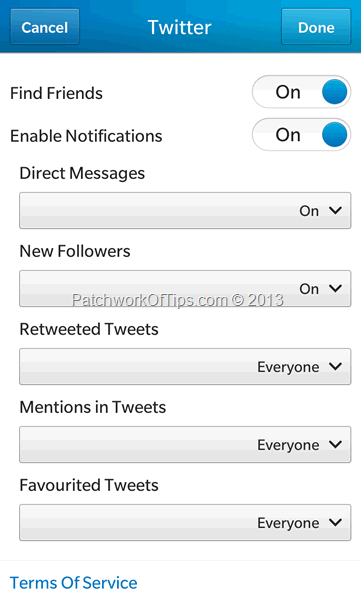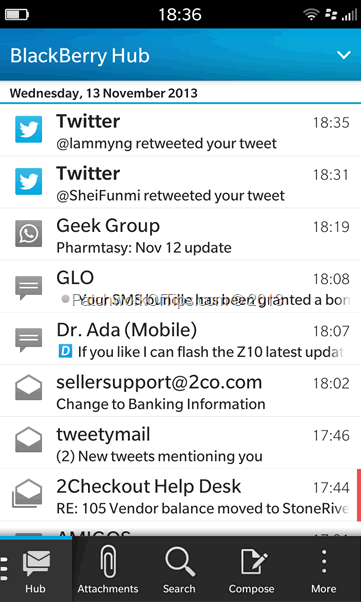 Known Bugs and Fixes For BlackBerry 10.2.1
Music Player not playing music and throwing up: The file can't be played due to an unexpected error.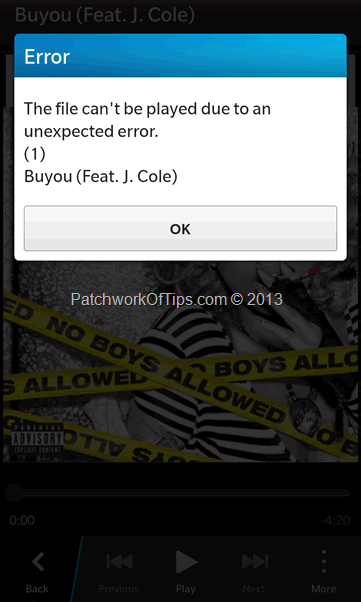 To get it working again, simply download and sideload this file >> sys.airtunes-10.200.1.23.bar. You can refer to how to sideload bar files on blackberry 10
 Android apps taking time to load
Android apps launch pretty fast on the leak but after a while the Android player seems to take a few seconds to load by showing the screen below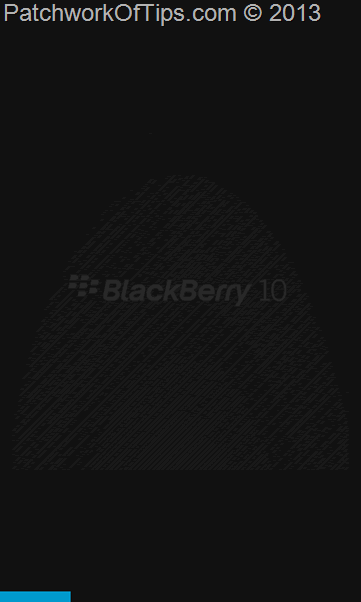 A good ol' battery pull solves this though the problem re-surfaces after some hours
BlackBerry 10 Keyboard Lag: This a tiny bit of lag typing the first letter of any sentence. So far so good, there's no fix for this and it really doesn't bother me that much
These are just the features that really made an impression on me. For more features, bugs and fixes head over to Leaked OS: 10.2.1.1055 List of Features, Bugs and Fixes
If you have installed this latest leak, please share with us what your experience has been like.
Please rate & share this article to help others. Thanks
You'll also like: