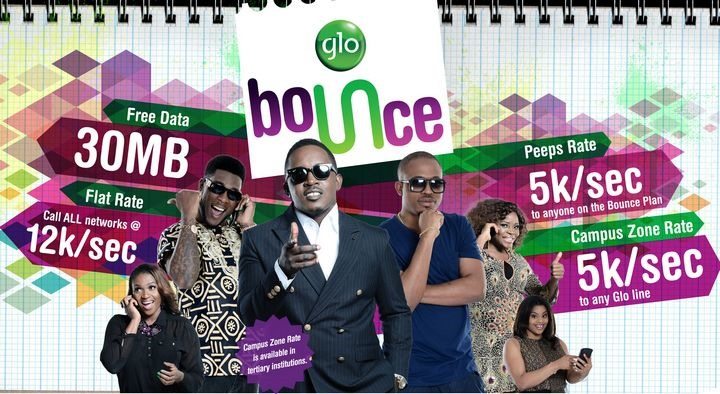 Sometime around August 2013, Glo Bounce tariff plan was launched on the Globacom platform and amongst its mouth watering offers such as 12K/sec off-net on-net calls, 5K/sec to other Bounce users and 5K/sec to any Glo line on any campus, the free data offer of 30MB for every recharge of N200 and above stood out.
Click for more details on Glo Bounce offer
This was seen as one hell of a deal until users started complaining that they were unable to use the free data allocated to them for recharging their call credit with N200 and above scratch cards. I thought it was just a fluke on some SIM cards but lo and behold I faced the same predicament when I made an attempt to take advantage of the offer. I remember complaining to a Glo customer care rep and she told me point blank; "you can't have it all" SMH.
Months later, I decided to give the Glo Bounce data offer another try and it now works without hassles
How To Use The Glo Bounce 30MB Free Data Offer
Simply recharge your call credit with any recharge card denomination from N200 and above. You'll immediately get a notification that you've been credited with 30MB of free data to last for 7 days only. To start making use of this data, make sure your device APN is set to gloflat while the username/password is flat/flat respectively.
If you don't have an active glo data plan on your line, you will get an SMS like the one below as soon as you connect to the internet
Dear customer, you are using data at Pay-As-You-use rates of 5 kobo per kB or N51,20 per MB. Send MENU to 127 for subscriptions as low as N100 for 13MB
This is so 'cause apparently Glo is working to phase out all their numerous apns leaving just gloflat just like MTN Nigeria has only one apn; web.gprs.mtnnigeria.net
Things to note
The free data seems to be linked to recharge cards only. If you recharge via ATM, QuickTeller and what have you, you don't get any free data. That has been my experience anyway.
For each amount above N200 you recharge, you get 30MB valid for 7 days. If you recharge N200, 5 times in a day, you get 150MB valid for 7 days. If you have 20MB with 1 day validity period left and you recharge N200 and above, your data allowance increases to 50MB and validity period is reset to 7 days
To check your remaining Glo Bounce data balance, dial #124# and type in 4 or dial #122#
Once you exhaust the free data, your call credit will be used as long as you're connected to the net
This Glo Bounce data works on the BlackBerry Z10 using the apn, username/password given above. In the event, you get an error message telling you the APN setting is invalid, keep saving it until it sticks and the system accepts it. Hopefully Globacom Nigeria will fix that bug soon.
So that's what I've learnt in the past few days, regarding the use of Glo Bounce free data allowance. Questions and comments are welcome below.
Have a great fun weekend

.
UPDATE 19 June 2014: Glo has really been messing up with this Glo Bounce free data promo and right now we ain't so sure what works and what doesn't. If the settings above don't work for you, someone just left a comment recommending glosecure as APN and wap as Username/Password.

If you should go with this method, please make sure you don't have airtime left on your account less they deduct the 30MB and also deduct from your airtime too.
Please rate & share this article to help others. Thanks
You'll also like: