Globacom Nigeria has officially launched their 4G LTE internet service all over Nigeria. I can confirm that the service is now live in Sokoto, Nigeria though I'm still getting basic download speed of 1.2Mbps. I haven't tried using it in the early hours of the morning sha. This is when most networks allow downloading at maximum speed.
Either way they still remain the best network when it comes to data volume for your money. Whether you're able to use the data allocated to you without frustration is story for another day. Personally I'm done complaining as I have several backup data plans with MTN, Airtel and 9Mobile.
To use Glo's 4G LTE internet service, you would need to upgrade your sim card to a 4G LTE sim card as your old SIM card is stuck on 3G. You will also need to make sure that your mobile phone or internet modem supports Glo's 4G LTE Band 28, 700MHz network frequency.
Glo 4G LTE Band 28 Compatible Phones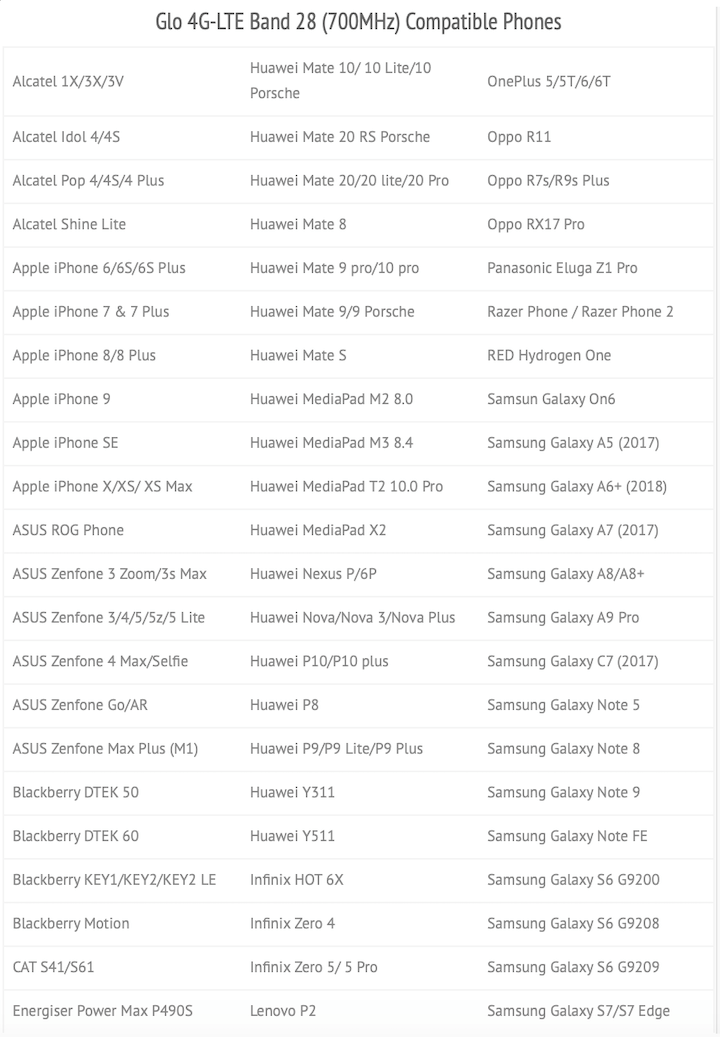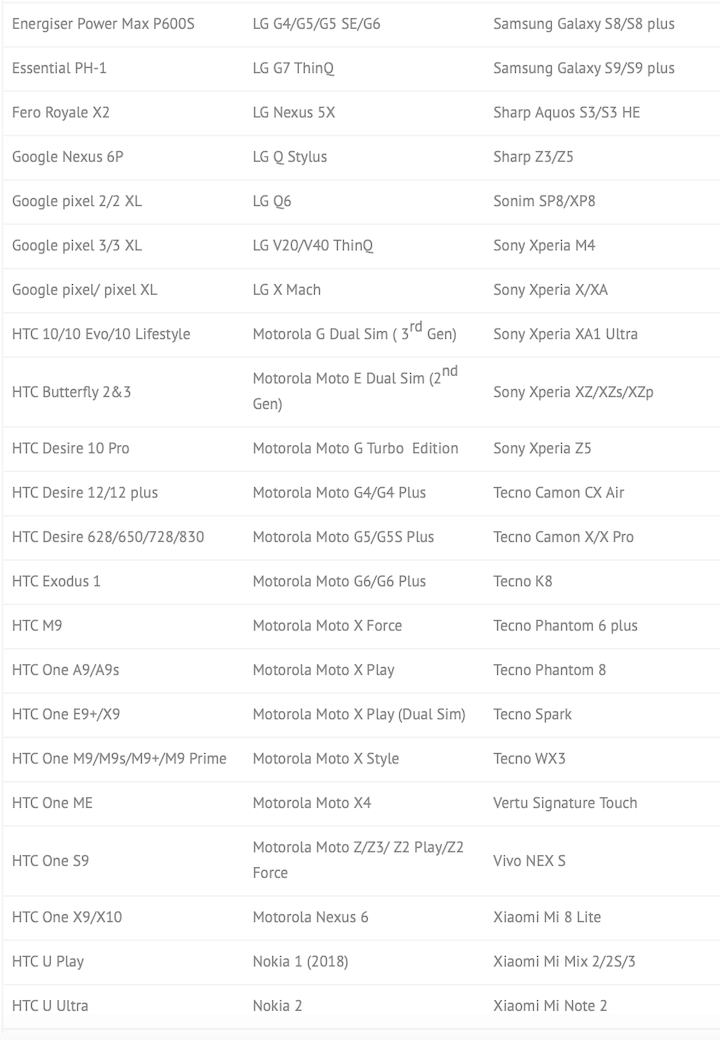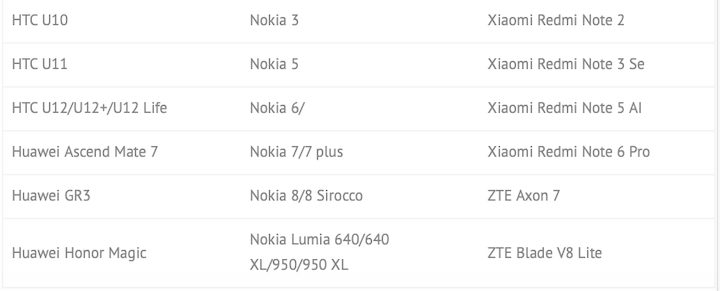 How To Subscribe To Glo 4G Data Plans
To be able to browse on the GLO network, load the required credit for the plan you want to subscribe to then text the appropriate code for your desired plan to 127 or dial the appropriate USSD code directly as shown below.
As shown below, if you wish to buy N1,000 data plan, simply text 53 to 127 OR dial *127*53#.
Glo Daily, Weekly, Monthly Data Plans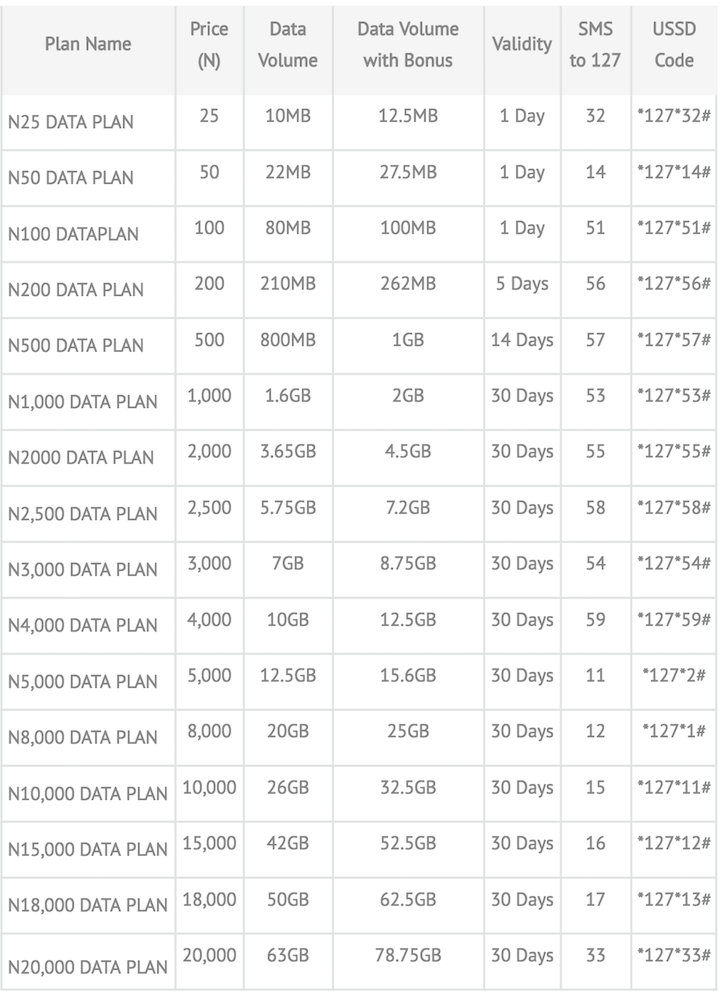 Glo Oga SIM Awoof
For a limited time only, you can get an additional 80% data bonus on all data plans above if you fulfill the following criteria
You're using a brand new Glo 4G LTE SIM
You are an existing owner of a Glo line but you have NEVER bought a data plan on the network.
Your last Glo data plan subscription expired more than 90 days ago and you haven't subscribed again ever since
Please note that this Awoof expires after 4 months of activation. On expiration you will be downgraded to normal Glo data plans.
Below is an overview of how much data you can get with Glo Oga SIM. Personally I've been using it since August 2018 when it was launched and truly you get 80% extra data on Oga SIM. Too bad mine expires in 3 days time.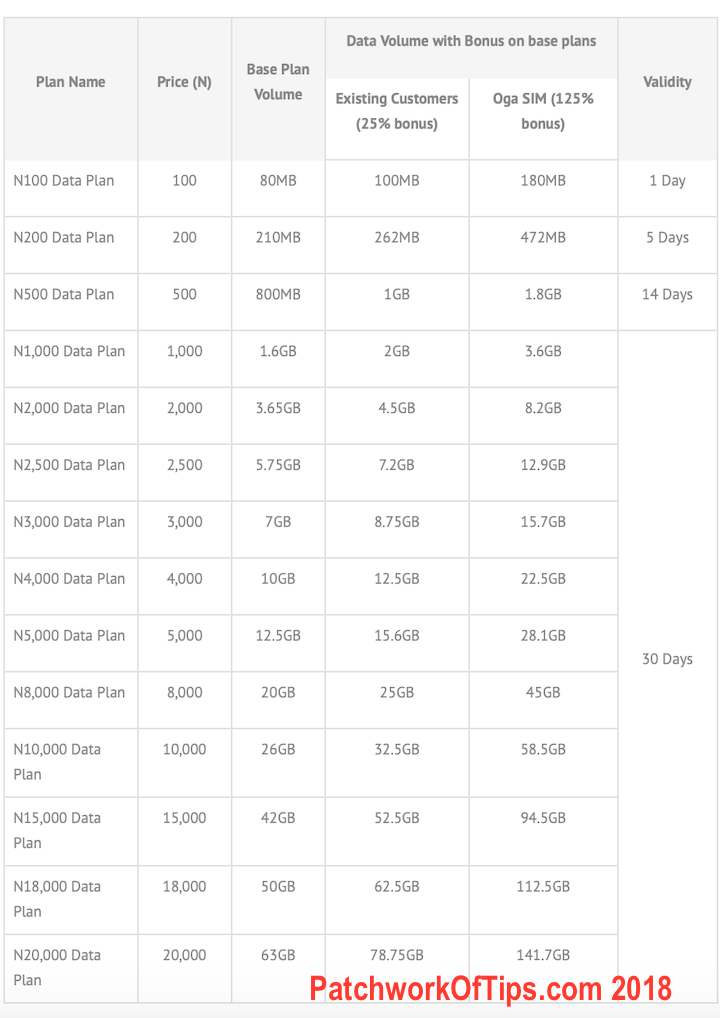 You can get more info on Glo Oga SIM Awoof here
Glo Flexi Plans & Campus Data Booster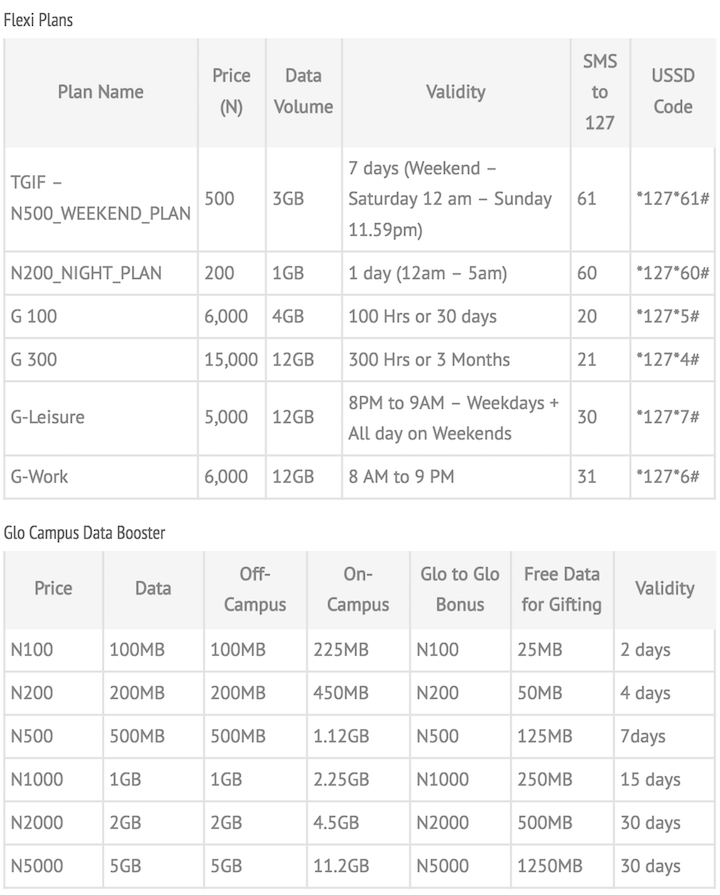 NOTE: For more information, see Globacom Data Plans.
Glo 4G Internet Settings For Phones & Modems
APN: gloflat
Username: flat
Password: flat
How To Stop or Cancel Glo Data Plan
By default, Glo sometimes renews your data plan automatically. If you wish to end your subscription to a particular Glo internet plan, simply text CANCEL to 127.
How To Check Your Glo Internet Data Balance
To check how many gigabytes or megabytes you have left on your glo internet monthly subscription and when your plan will eventually expire, simply text INFO to 127 or dial *777#.
Feel free to leave a comment below if you need assistance in any way. Cheers.
Please rate & share this article to help others. Thanks
You'll also like: