Nokia C2-02 Upgraded To Nokia C2-03 Dual-SIM Touchscreen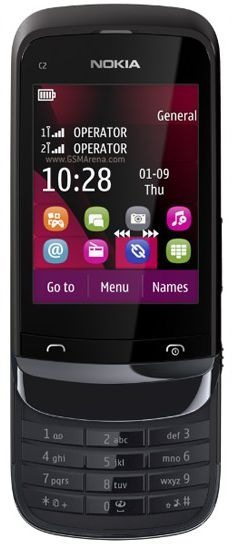 Nokia has added yet another dual-sim mobile phone to their arsenal by releasing the Nokia C2-03 which in reality is just the Nokia C2-02 with extra SIM functionality.
Running on Nokia's S40 software, it weighs about 115g,  measures 103 x 51.4 x 17 mm in dimension and comes with a 240 x 320 pixels, 2.6 inches touch-enabled QVGA TFT resistive display.
So far so good, it would appear that both SIMs can be assigned different functions such as SIM 1 for calls and messages and SIM 2 for mobile data. No confirmation yet on whether both SIMS can do both calls and data at the same time on their own.
Other features include microSD slot that supports cards of up to 32GB, data connectivity via GPRS/EDGE, Bluetooth v2.1 and micro USB v2.0, 2 MP 1600x1200 pixels camera with QCIF@15fps video recording, FM radio; FM recording and multimedia player which supports MP4/H.264/H.263 videos and MP3/AAC/WAV sound files.
Personally, the thickness and slider feature of this mobile phone makes it a no go area for me as my experience with slider and flip mobile devices has never been a good one at all
Please Kindly Rate This Guide/Review. Thank you
More articles you might be interested in....