Xiaomi's awesome budget fitness tracker, the MiBand, till date syncs to only Android 4.3+ and iOS 7+ phones and tablets that have bluetooth 4.0 LE functionality via its MiFit app. So far there's been no word on a windows phone version of the MiFit app but a developer who has been working on it for some time, has finally released it in private beta.
Click here to sign up for the private beta by Dahrkael. You have to sign up using the microsoft account linked to your windows phone device. Once accepted, you'll get an email with a link to download the app.
Set up is pretty easy and doesn't require you to sign in to your Mi account as you would do on the android and iOS version. I had to unpair the MiBand from my BlackBerry Z30 before the Mi Band Tracker on my Nokia Lumia 730 could detect the device. Once connected the device will vibrate and flash its LED lights for some seconds.
NOTE: I'm running Windows 10 Technical Preview for Phones on my Nokia Lumia 730
As shown below the interface is pretty basic for now and gives you a quick view of your step count for the day, how many steps you have left to go and how much battery you have left as well as hardware/software information for the MiBand.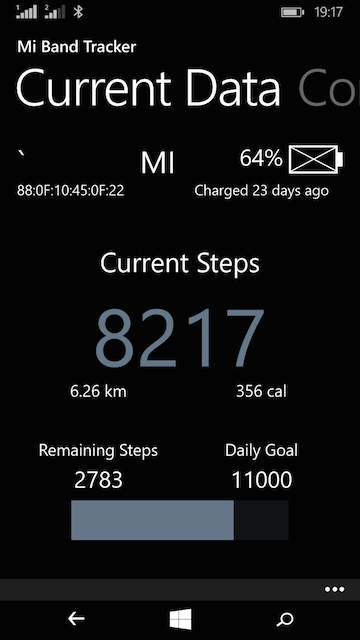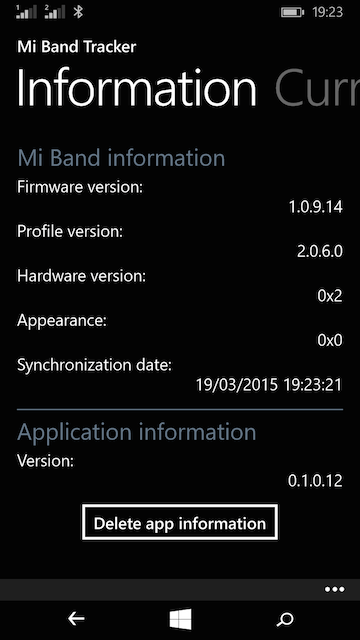 In the configuration area, you can set up your basic data such as age, weight and height as well as 3 alarms and wear location.
For now, the app doesn't seem to have a way of scrolling through your progress for the days gone by. No word yet on if the firmware of the MiBand can be updated via this beta app. For now, I do that via the MiFit android app on my Blackberry 10 device.
Overall, the app is worth checking out and hopefully Xiaomi makes contact with the developer to actually make this an official app.
UPDATE 24th March, 2015: Syncing to both Windows Phone and Android seems to cause data loss i.e step count. I've switched back to using the android MiFit app solely.
Please rate & share this article to help others. Thanks
You'll also like: