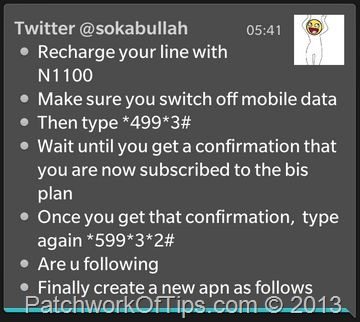 UPDATE December 10, 2013 5.50PM: I just exhausted my data allowance and thus tried recharging N1,100 again. N100 was automatically deducted from my account for the BlackBerry 10 Voice plan so I subscribed to the Blackberry Complete plan with the remaining N1,000.

Unfortunately I can't browse anymore on my PC.

I don't know if the APN has been blocked or if one has to subscribe for BB complete before BB 10 for it to work.

I'll update the post again if anything comes up.

UPDATE December 11, 2013 6.00PM: Just as I suspected, it looks like BB Complete must come before BB10 plan for this to work. I just recharged N100, dialed *599*3*2 and I'm browsing again with Etisalat BIS on PC again.

If it shuts down again, I'll keep you guys posted ;)

UPDATE December 21, 2013 1.23AM: Looks like the fun is over. It's no more working for me despite all attempts and many users are reporting the same too.
Airtel Nigeria announced that they were shutting down BIS access on Android and PC come last week December 3rd. Till date, some folks have reported that it still works and for some it doesn't. Amidst this, it was announced that Etisalat BIS now works on Android phones too. By now some of you have already figured out how to get it working but for those of you who haven't, here goes.
Get an Etisalat line and recharge with N1100 Only
Make sure you're not connected to the internet at all
Dial *499*3# and wait for confirmation welcoming you to the Etisalat BlackBerry Complete Voice Plan
Now dial *599*3*2# and wait for confirmation welcoming you to the Etisalat Blackberry 10 Voice Plan
Open your device connection settings and setup a new profile with APN set as blackberryx.net. Leave username and password blank.
Save the new APN and connect to the net at once
Word on the street is that this trick has been working for some months now but only came to light with the Airtel *fiasco*. Only time will tell if Etisalat will yank it or let it be for longer.
Enjoy while it lasts and thanks to @sokabullah for sharing

Please rate & share this article to help others. Thanks
You'll also like: