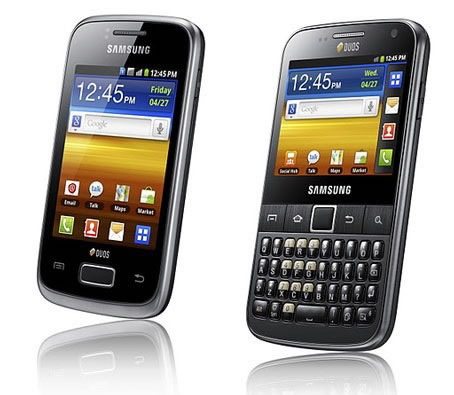 As soon as we've ushered in the new year in a few days time, Korean mobile phone manufacturer, Samsung Electronics will roll out the new addition to their line of Galaxy android smartphones.
These release would be a First from Samsung as these new mobile phones will be the First Android powered Dual SIM smartphones.
Known as the Samsung GALAXY Y DUOS and Samsung GALAXY Y Pro DUOS, both phones would feature Android Gingerbread, an 832MHZ processor, 512MB of internal memory storage which is expandable via microSD up to 32GB, 384MB of RAM, complete internet connectivity access via GPRS/EDGE/7.2Mbps HSDPA and Wi-Fi,  a 3MP camera, microUSB v2.0 and an FM radio amongst other things.
As shown in the picture above the only differences between both devices lies in the obvious fact that the Samsung Galaxy Y Duos would be all touchscreen with a 3.14" QVGA display and a 1300mAh battery while the Samsung Galaxy Y Pro Duos will sport a full QWERTY keyboard as well as a 2.6" QVGA display and 1350mAh battery.
Corporate folks need not worry about not being able to take their work on the road, as these devices will support push email, instant messaging via chatON and social networking as well as viewing and editing of Word, Excel, PowerPoint and even PDF files courtesy of Polaris.
Just like BlackBerry Protect, Samsung's proprietary Find My Mobile tool would help users trace their lost phone or remotely wipe its contents in case of loss or theft.
Here's hoping that these devices don't suffer the same freezing issues I had with the Samsung GT-C3212 and that they have an excellent battery life comparable to the LG X330tT.
Please rate & share this article to help others. Thanks
You'll also like: