UPDATE: Motorola's DROID RAZR is currently avaialable for pre-order via Verizon Wireless for $299 on-contract from Verizon now. Pre-orders will be taken in stores or by calling 1 800 2 JOIN IN and they will ship no later than November 10 2011.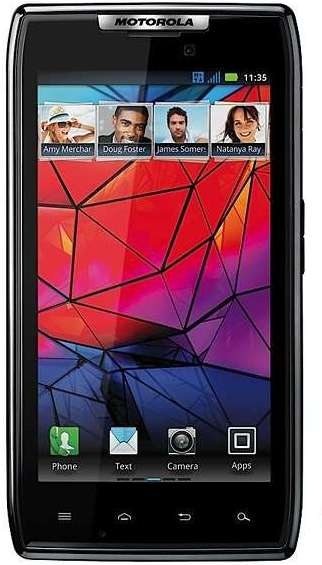 A little over a week ago, Motorola finally unveiled the successor of their hugely successfully Motorola RAZR V3 clamshell mobile phone (flip phone).
Touted as the new slimmest smartphone available, Motorola's DROID RAZR runs on the android platform and features a 4.3-inch qHD Super AMOLED display, covered with Corning Gorilla Glass scratch resistant display on a very slim and lightweight Kevlar-infused body.
The internal parts of this android wonder is coated with a special, splash guard coating, a feature somewhat similar to what they added to the Motorola DEFY+ which currently sells for £240 in the UK.
Top features of this android smartphone include the Android 2.3 Gingerbread OS, a OMAP 4430 chipset with a 1.2GHz dual-core Cortex-A9 processor and 1GB of RAM, LTE 4G connectivity, 16GB of internal storage with microSD card support, 8 Megapixels camera/ 1080p HD video recording snapper and a 1800mAh battery.
The Motorola DROID RAZR goes on sale late October/early November 2011
Please rate & share this article to help others. Thanks
You'll also like: