Over 2 weeks back, Lenovo launched some of its latest smartphones in Nigeria but didn't give a specific date on when the devices would go on sale and for how much. Well, I was just causally browsing through Slot Nigeria and saw the ad below for the P70.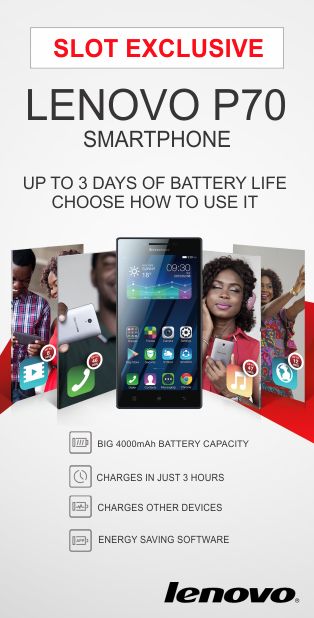 Looks like the device is being launched as a Slot Exclusive and is now available for pre-order for N40,000*.
*Actually it's N45,000 but you get N5,000 airtime voucher with the pre-order so you know….. *wink*
Once again, just like they announced during the launch, you can expect 3 days battery life with the device and but in my experience, with moderate use I only get 36hrs thereabout. See Lenovo P70 battery life test.
The energy saving software referred to in the ad above is probably their Ultimate Power Saver mode which literally turns your smartphone into a feature phone: Calls, SMS and Clock only with no access to notification bar and settings.
I haven't tested the powerbank feature as I don't need it and it makes no sense to me giving that the battery consumption rate is higher than what's obtainable with its' predecessor, the Lenovo P780
If you're interested be sure to click here to pre-order or you might just want to hang on to see if other outlets get the device for a lower price though I very much doubt that.
Please rate & share this article to help others. Thanks
You'll also like: