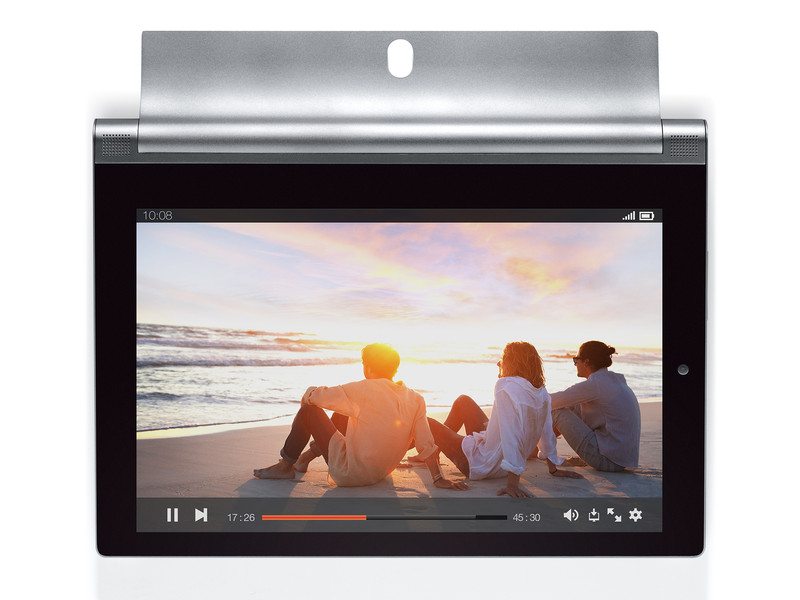 Just yesterday, I was researching Windows 8.1 tablets and I passed on the Microsoft Surface 3 as it was too big and expensive for me only for Lenovo, a few hours ago, to announce a refresh on last year's Yoga Tablet line.
Before the end of this year, they would be releasing Lenovo Yoga Tablet 2 operating on Android KitKat and Windows 8.1 OS with 8 inch,  10.1 inch and 13 inch variations.
All variations share the same spec except for on board storage which will be 32 GB for the Windows version and 16GB for the Android version. Battery life on the Android version retains last year's version epic 18hrs rating while the Windows version has a rating of up to 20hrs.
Keys specs are follows:
Chipset
Quad-core Intel Atom Z3745 (up to 1.86GHz)
RAM
2GB
Display Size
8 or 10.1 or 13 inches IPS
Display Resolution
1920×1200
Cameras
8MP f2.2 Rear
1.6MP Front
Internal Storage
16GB (Android) 32GB (Windows)
External Storage
microSD with support for up to 128GB
Connectivity
802.11b/g/n Dual-Band Wi-Fi (2.4 and 5 GHz) , Optional 4G (in select countries, not US): WCDMA (900/2100 MHz), GSM/EDGE (900/1800/1900 MHz), Integrated Bluetooth® 4.0
Weight
419g (8-inch), 619g (10-inch)
Battery
Up to 18 hours (Android) and 20 hours (Windows) on a single charge
Audio
2x front large-chamber speakers, Dolby® Audio, Wolfson® Master Hi-FiTM
Looks like it's time to sell off my Lenovo Yoga Tablet in readiness for when the Windows version of the 8 inch Lenovo Yoga Tablet 2 is launched for sale.
I'm done with Android and it's time to move on. I'll probably maintain a link to Android via BlackBerry 10 for important apps like banking apps which aren't available yet on Windows. I'm yet to switch my phone to Windows as Nokia is kinda delaying their release of the dual sim selfie phone, Nokia Lumia 730.
Will you be getting one of the new Lenovo Yoga Tablet 2?
UPDATE: Sad news! I was just going through the main page for Lenovo's Yoga tablets and discovered that the 8 inch Windows 8.1 version is WiFi only. That leaves me with the option to either get the 10.1 inch version or stick with my current tablet.
I just hope they review this before launch and give us a 3G enabled 8″ Windows Yoga Tablet 2. A 10.1 inch tablet is just ridiculous for someone like me. I'd rather lug around my retina Macbook Pro.
One more thing, contrary to what's on the Lenovo battery info page, this page on their site rates the Android version battery life at 18hrs and the Windows version at 15 hours. Looking forward to GSM Arena possibly clearing that confusion if they get a review unit.
UPDATE 2: So someone just whispered to me that these Lenovo Windows tablets can't run full Window desktop applications. If this is really so I'm sticking with my old Yoga tablet as the whole need to migrate to Windows OS was so I could use apps like Internet Download Manager on a tablet.
Please rate & share this article to help others. Thanks
You'll also like: