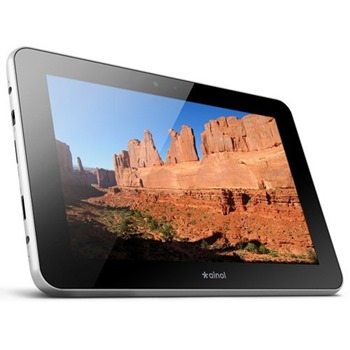 Given my sweet experience with the THL W6 and my yet to be vanquished frustration with the lack of apps on the BlackBerry platform, I decided to have a go at a Chinese 7 inch android tablet thus I decided to settle for the Ainol Novo Fire 7. Boy was I in for some major regrets. Sometimes I'm left wondering what people are thinking when they gloss over reviews. I was expecting a amazing tab but instead got something that I had to sell off at half the purchase + shipping price.
Do please note that this review might come off as pretty negative but that's just how my experience went. It could be that my own device had hardware issues or I'm just biased coming from such great budget devices like the THL W6 and BlackBerry PlayBook.
Unlike other reviews I've done in the past, I'll be starting with the cons of this tablet but before that, a run through of the specs and other stuff it ships with would be in order.
Ainol Novo Fire/Flame 7 Specifications
http://www.amazon.co.uk/Ainol-Bluetooth-G-Sensor-Capacitive-Compatible/dp/B0093WBK50
* CPU: Amlogic 8726-M6, 1.5GHz, Cortex-A9 dual core; GPU: Mali-400
* Operation System: Android 4.0.4
* RAM: 1GB (DDR 3)
* ROM(Memory): 16GB Nand Flash
* Shell Material: Aluminum shell
* Screen Size: 7 Inch
* Type: Capacitive Screen, IPS
* Display: LCD
* Resolution: 1280 x 800px
* Visible Angle: 178°
* Extend Card: Support TF card up to 32GB extended
* Camera: Dual camera,front camera is 2.0 and back is 5.0 megapixels. Back camera with a flashlight
* Gravity Sensor: Yes
* Multi-Touch: Yes, 5 points multi-touch
* Flash: Support Flash 11.1
* Google Play : Yes, built in
* Bluetooth: Yes, support bluetooth 2.1 version
* Video: 1080P, AVI/MOV/MP4/RMVB/FLV/MKV…
* Music: MP3/WMA/WAV/APE/AAC/FLAC/OGG
* Ebook: UMD, TXT, PDF, HTML, RTF, FB2…
* OTG : Yes, support ExFAT, NTFS, FAT32
* USB HOST : 2.0
* Email and Browser: Yes, built in
* WIFI: Yes, 802.11 b/g/n
* 3G: Not built in, support external 3G dongle: E1916, ZTE AC2736, HUAWEI E1750, HUAWEI EC122, HUAWEI EM770W
* Earphone Interface: 3.5mm
* Work Time: Up to 7 hours for video, 5 hours for game
* Battery: 5000 mAh, 3.7V
* Language: Dutch, Indonesian, Czech, Danish, German, English, Spanish, French, Croatian, Polish, Portuguese, Roman, Finnish, Swedish, Swahili, Russian, Serbian, Bulgarian, Arabic, Korean,Japanese
* Other Applications: ES File Explorer , Google Search, Google Maps, Browser, Gallery, Clock, Market, Calculator, Calendar, Video, Email, Gmail…
* Extend Port: 1 x TF card slot; 1 x MINI HDMI port; 1 x Micro USB port; 1 x 3.5mm Earphone port
* Package including: 1 x Charger; 1 x USB cable; 1 x Earphone
CLICK TO ENLARGE THE IMAGES
Below you can see the front and back of the Ainol Novo Fire. The front is pretty simple with the logo at the bottom and the 2MP camera in front. At the top of the back, you have the 5MP camera with LED flash by the side and at the bottom left is the speaker
While holding the tab in landscape mode, at the top edge lies the Power button, Volume rockers and Home button while to the left edge houses the extended ports for DC charging, microUSB, microSD card slot, mini HDMI, 3.5mm Earphone and MIC.
Cons Of The Ainol Novo Fire 7
Thin and Hot Aluminum shell back cover: the Ainol Novo Fire comes with an aluminum shell which feels pretty nice to touch UNTIL you start watching a movie or playing a HD game and the device gets hot. If you're in a room with air-conditioning or the weather is cool, you probably wouldn't notice it but if vice versa is the case, you'll most definitely start feeling uncomfortable at some point due to the hotness of the device (no pun intended)
Vibrating Aluminum back cover: when playing sounds via the default speakers, the back tends to vibrate mucho due to the thin aluminum material it's made of.
Buggy Temperature Sensor: during one of my gaming sessions, the device became so hot I feared it would burst into flames. lol. Alas when I checked the temperature reading it was just 30c. Warily, I left the device to cool off completely and still the temp reading was 30c. (Note this was on the Jelly Bean version anyway. Maybe it works just fine on the Ice-cream Sandwich version)
Buggy Android Ice Cream OS: the first negative thing I noticed after I turned on the device for the first time was that it was pretty slow. Yep! It was sluggish and that's so something not expected of a dual core
device. Certain applications would randomly crash the device and the graphics would suddenly become distorted. Luckily, after much googling I was able to upgrade to the Jelly Bean version which was way better with it's own bugs nonetheless.
Low Quality Cameras: all I can say is that the 5MP and 2MP cameras suck big time. The 1.3MP cameras that can be found on budget feature Nokia mobile phones are way better IMO. UPDATE 12 March 2013: So I decided to give the camera another try and with decent lighting, it actually delivers a lil above what's expected of a 2MP camera.
Screen Brightness Issues: just like my THL W6, I was hoping the Ainol's IPS HD screen would be stellar in the brightness department but unfortunately under 30% brightness level, things become not so clear. Some folks might not mind but I do mind especially when the battery level drops fast 'cause the screen brightness level is at 50%.
Buggy Wi-Fi connection: while the Jelly Bean update will get you running smoothly, you'd be missing out on Wi-fi connections staying on when your tablet's screen is off.
Stuck With Default Apps: as is common with most gadgets coming from China, they come loaded with chinese apps which you can be easily deleted but not in the case of the Ainol Novo Fire. The only option you have is to disable them such that they no longer run or appear in the app tray.
Creaks here and there: sometimes while handling the device, I would hear tiny creaks here and there which when I'm focused, I'm unable to reproduce. Anyway, that's totally expected of a tab at this price range.
Pros Of The Ainol Novo Fire 7
Root Awesomeness: The Ainol Fire 7 comes rooted by default even after the Jelly Bean upgrade. Android freaks who enjoy tweaking the OS with apps like SetCPU would love this one
Availability of updates: looks like updates for this tab aren't scarce at all with the CyanogenMod custom ROMS constantly being updated.
Out of the box multimedia support: unlike some chinese tablets and phones I've seen around, the Ainol Novo Fire supports a pretty good range of audio and video formats without the need of a third party app like MX Player.
Unfortunately I wasn't able to run a battery test before I sold the device but the guy I sold it to doesn't seem to be complaining so I guess it's all good.
Sorry there ain't a lot of pros with regards to this tablet. Like I said, my PlayBook has me biased

How To Upgrade Ainol Novo Fire/Flame To Android Jelly Bean 4.2.1
The official Jelly Bean stock ROM for the Ainol Novo Fire / Flame is out online but yet to hit new batch of devices.
The upgrade doesn't work on Windows 8 so hopefully you have a Windows 7 or Vista system.
Make sure to download the right ROM for your device based on if it's a TM or QM rom that it shipped with. This info can be found in Settings >> About tablet. If you flash a QM ROM on a TM device, you'll have terrible screen brightness issues
Click here for official update instructions
Click here for alternative update instructions
After upgrading to the official Jelly Bean update for the Ainol Novo Fire, you might encounter this error :
unfortunately process android.process.acore has stopped
This is caused by a missing Contacts application which needs to be downloaded and uploaded to the System/App folder. Click here for more instructions
In conclusion, the Ainol Novo Fire ain't a bad tablet at all for it's price tag. For those on a budget and who haven't experienced a tablet before, it should work just fine.
Coming soon, is the review of the Aoson M71G 7 inch 3G tablet.
Do have a wonderful weekend.
Please rate & share this article to help others. Thanks
You'll also like: