I've been getting quite a number of requests from some of you guys about issues related with loss of IMEI or no network signal issues after flashing certain Redmi 2 ROMs. As some of you may know, the Xiaomi Redmi 2 was first launched in China before it was released in countries like Malaysia, Singapore and India and as such there are different builds of the Redmi 2 flying around. If you buy your device from Chinese third party resellers such as AliExpress, GeekBuying and GearBest, there's a huge probability that you're buying a device that was built for the chinese market. These Redmi 2 devices built for the chinese market come in three builds (device IDs) depending on which mobile network they were built for.
According to this post, Redmi 2 : Frequently Asked Questions [Please Read Before Posting Any Questions], the Xiaomi Redmi 2 with device ID HM2014811 is built for use on China Unicom 4G network while the HM2014812 works fine on China Telecom 4G network and the HM2014813 is made for China Mobile 4G network.
You can check the device ID of your Redmi 2 by taking out the battery and looking closely at the inscriptions beneath it on the device.
Now the reason why some of you are having IMEI and Signal issues is that you're flashing the wrong ROM for your specific device ID. The most easily accessible MIUI ROMs for the Redmi 2 are the Global ROMs but unfortunately they are not compatible with these China specific versions HM2014811, HM2014812, HM2014813.
To fix the IMEI and signal issues you need to flash the right ROM.
How To Fix IMEI and Signal Issues On Xiaomi Redmi 2 HM2014811, HM2014812, HM2014813
Click here to download Xiaomi Redmi 2 Stable ROMs for versions HM2014811, HM2014812, HM2014813 (The page is completely in chinese, so you have to navigate it with Google chrome for automatic translation to English)
NOTE: These ROMs do not come with multilanguage packs and as such only English and Chinese are supported. Also they don't come with Google Play services but they can be easily installed (See How To Easily Install Google Play Services On Xiaomi Devices). If you need a multilanguage stock ROM, scroll down to the end of this article for a quick guide.
If your Xiaomi Redmi 2 device ID is HM2014813, click on the 1st tab (Redmi 2 Mobile) and if it is HM2014811 and HM2014812, click on the 2nd tab (Unicom Version Redmi 2 / Telecom Edition). Download and flash either the stable or developer ROM as you prefer via recovery.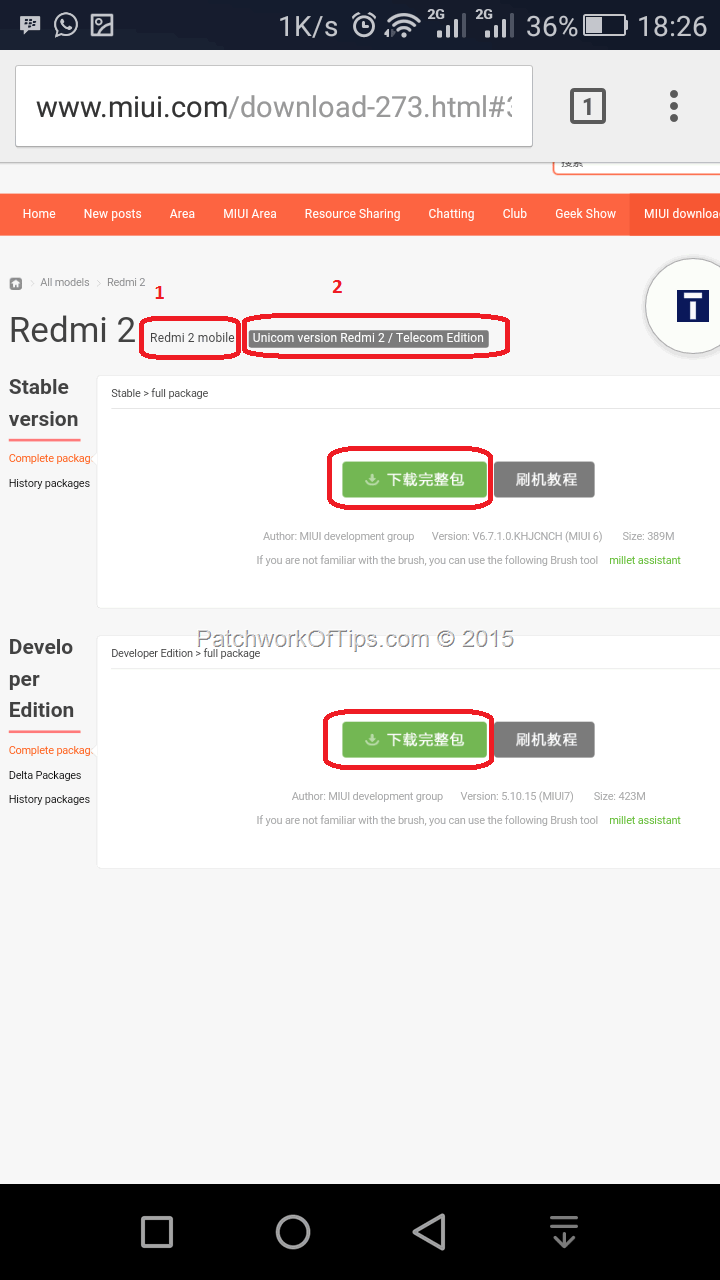 If you're having issues flashing the appropriate ROM via recovery, you might have to resort to flashing via Fastboot Mode.
For fastboot flashing, click here and download the appropriate fastboot file amongst the selection circled in red below.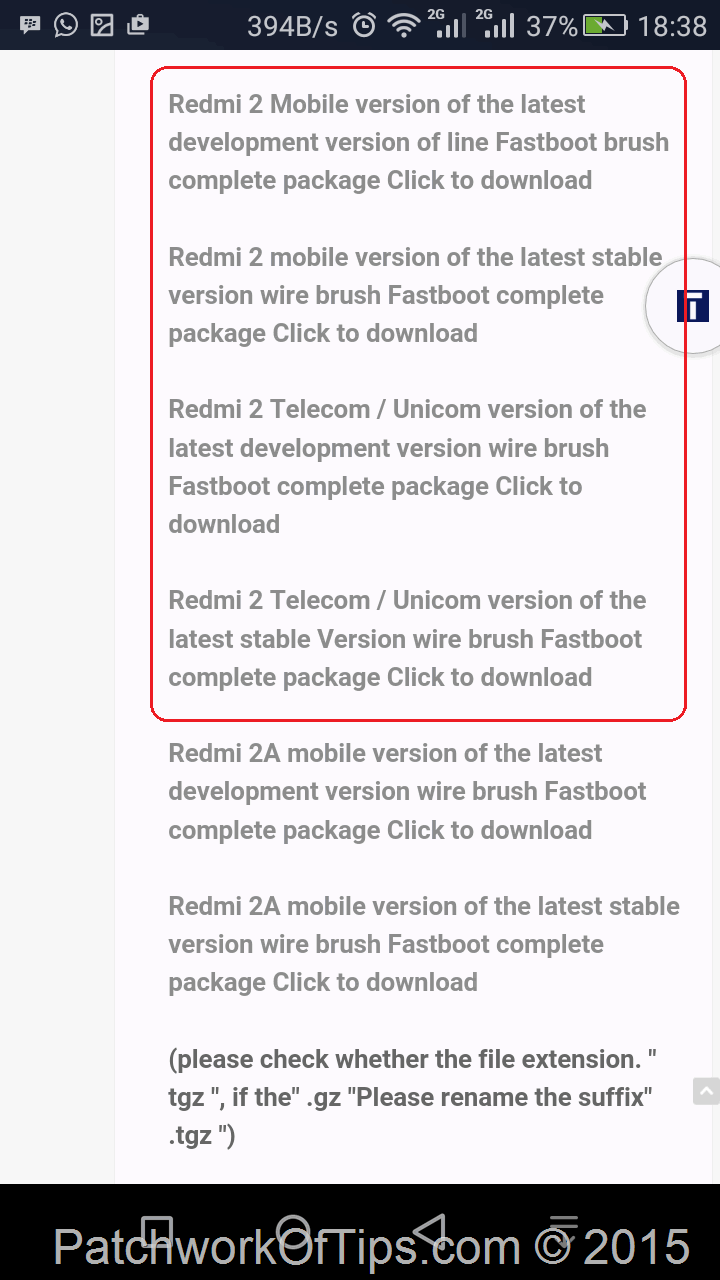 If you're not familiar with fastboot mode flashing, you can install MiFlash tool and then check out How To Fix Xiaomi MiFlash Missmatching Image and Device error for a quick guide on flashing the Xiaomi Redmi 2 via Fastboot mode.
How To Install Multilanguage / Global ROM On Xiaomi Redmi 2 HM2014811, HM2014812, HM2014813
If you need your device in a language other than English and Spanish then you would have to install a custom ROM or Global MIUI ROM for Xiaomi Redmi 2.
If you choose the Global ROM route, you would have to download the appropriate fastboot file for your device ID as shown above. Extract the file and take out the modem file named NON-HLOS.bin. You will then flash this file to your device via fastboot mode to get IMEI and network signal detection working again. (See How To Fix No Network Signal On Xiaomi Redmi 2 Prime HM2014813)
NOTE: If you choose this method, each time there's a major update, you will lose IMEI and have signal issues and thus have to flash the modem file again. I got tired of doing that and switched permanently to the stock chinese ROM for my Redmi 2 build.
I hope this guide comes of use to most of you out there. If you're still having issues then I might really not be of help. Either way, just leave a comment. If it works for you though, be sure to let me know by leaving a comment and sharing this guide too.
Thanks a lot and have a great weekend.
Please rate & share this article to help others. Thanks
You'll also like: