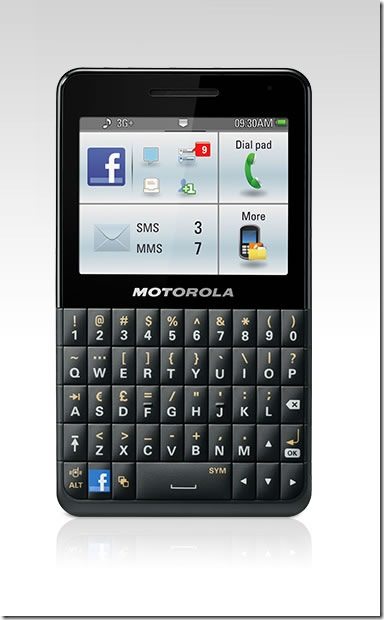 27 year old Mark Zuckerberg ought to be mighty proud that major mobile phone manufacturers around the world are clamoring to build phones dedicated to his mighty popular creation, Facebook.
Motorola has just announced the Motorola EX225 which will be bearing the codename MotoKey Social. Like HTC's Salsa and ChaCha, this cheap smartphone is targeted at hardcore facebook users and comes with a dedicated blue Facebook button (as shown in the image) for instant image shares and status updates.
Featuring a QWERTY keyboard, Motorola's budget facebook phone comes with a 2.4-inch capacitive touchscreen with QVGA resolution and 64MB RAM and 128MB ROM.
Other features include GRPS/EDGE/3G internet connectivity, a 3-megapixel camera, Wi-Fi, Bluetooth 2.1, an FM radio, a 3.5 millimeter headphone jack, and a 910mAh battery which is rumored to offer 480 minutes of total use time.
No word yet on if it's going to support a microSD slot & how much it's gonna cost yet.
We anticipate an early Christmas release

Please rate & share this article to help others. Thanks
You'll also like: