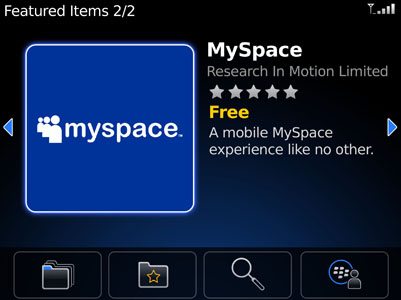 BlackBerry Appworld unlike every other mobile application market out there today is poorly stocked with just over 60,000 applications to date but for folks like me, 99% of the apps we need are readily available there or via developer websites.
I'm always on the look out for new apps that could help boost productivity or enhance the features of my Bold 9900. Some have found their way into my heart while others have fallen by the way side after a few days or weeks of use.
Of all the apps on my BlackBerry phone, here are the top 10 without which my blackberry experience would be so DULL!
Socialscope For BlackBerry: still in private beta phase thus only accessible by invitation, this social networking app supports Facebook, Twitter and FourSquare. In my opinion, it's like Ubersocial on steroids and now replaces two apps on my phone (Twitter and Facebook for BlackBerry)
Whatsapp: one of the features the blackberry phone is most popular for is the BlackBerry Messenger which allows for messaging, exchange of files, pictures, music and what have you with other blackberry mobile users over a secure connection. Whatsapp steps in sealing the communication gap so you can stay in touch with those friends of yours who don't have a BlackBerry. You can do pretty much the same things the BlackBerry Messenger allows you to do using your iPhone, Android, Nokia Symbian S60 & S40 and Windows Phone.
NOTE: I wouldn't transmit confidential info via whatsapp if I were you 'cause I don't think it as secure as the BlackBerry Messenger.
Opera Mini and UC Browser For BlackBerry: with the launch of BlackBerry OS 6, the default browser has undergone a tremendous change in a bid to make it faster and more user reliable. Unfortunately the page load speed still sucks for many of us probably due to the poor speed of our internet connections. Also the download manager just doesn't cut it either and it's yet to be revamped in OS 7.1. On my phone, I make use of Opera Mini for all my browsing needs as it still remains the fastest mobile browser out there in the market. Given that it's download manager also sucks as well, I make use of UC Browser for all my blackberry downloads.
BlackBerry News: I keep abreast of the daily news around the world via my Firefox browser addon, Newsfox. Unfortunately I don't access the internet on my laptop frequently thus I sometimes miss out on important news updates and what have you. With my discovery of BlackBerry News app, I'm always up to date even on what's going on my fave *gossip* blog, Linda Ikeji. Lol
WordPress for Blackberry: I run two wordpress blogs and sometimes don't have the time to turn on my laptop to do simple things such as approve and reply to comments. Well, this official wordpress app for blackberry comes in handy for that and what's more, I've started writing the articles for this blog on my Bold 9900 instead of my laptop and it's so much fun :)
Capture Nux: when it comes to creating screenshots of my blackberry, nothing gets the job done like Capture Nux. It integrates flawlessly into the menu of the BlackBerry OS allowing me to take pictures of practically every screen on my phone. These screenshots help in the writing of most of the articles here and in diagnosing problems with my BB friends online. My only problem with it is the lack of an image resize function which hopefully will be included in future releases.
BBSSH: sometimes I do need to download files whose links are set to expire either to due to frequent file updates, server bandwidth issues or what have you. Using BBSSH, I'm able to create copies of these downloads on my own server so that in my leisure time and when my internet connection is strong enough, I can download them at ease.
Instant Reboot: by default when you have problems with your blackberry, removing the battery and inserting it back again always solves such issues. Now the problem is that after a while it gets pretty exhausting having to open the battery compartment from time to time. Enter Instant Reboot app. Instant reboot is a tiny app which blends into the blackberry menu offering you a one click solution to reboot your blackberry device without removing your battery at all. So many apps found in BlackBerry Appworld claim to have this function but so far so good Instant Reboot seems to be the only that actually works without buts :D
Fancy Tran: last but not the least is Fancy Tran my trusted dictionary and translator. Sometimes I do forget the spelling of certain words or I need to corroborate the meaning of word in either English or Spanish and dear ol' Fancy Tran never fails at all :D It does come with ads which really don't bug me anyway. With my top 10 blackberry apps out of the way, here's the list of other apps, I do use from time to time depending on which situation I find myself in.
Battery Saver Pro by MMMOOO: helps to keep my battery running for a longer time.
BlackBerry Podcasts and Podtrapper for BlackBerry: for queuing downloads
FlashLight: 2 FOR 1 Free: when the power goes out as has become a custom here in Nigeria, this app quickly provides the much needed light to make my way around the house.
mChat – Facebook Chat app: for those times when I'm bored and free to chat away on facebook.
Rock File Manager: unzipping files and installing COD application files has never been easy.
Silent Camera: for those occasions when I want to take pictures discreetly without those around me or the subject being aware. It mutes that sound the camera makes when taking a shot.
Traffic Monitor: not all telecom companies offer unlimited data on Blackberry plans like Etisalat Nigeria does. This app helps to keep tag of your monthly data consumption so I don't end up having to renew my BIS plan before the month is up.
XE Currency: quick current foreign exchange rates at the tip of my finger
Well, folks that's just about all the apps on my BlackBerry Bold 9900. What indispensable apps do you use on your BlackBerry device?
Do please share with us.
Please rate & share this article to help others. Thanks
You'll also like: