Some of you might already be familiar with TunnelGuru or TroidVPN as it's one of those VPN apps that allow you browse the internet free of charge whenever your network provider leaves a loophole that can be exploited in their system.
TroidVPN which enables consumers use TunnelGuru's VPN services on the Android platform unfortunately only works on Android ICS & Jelly Bean leaving the more recent KitKat out in the cold due to some bug in the new android OS.
UPDATE August 9, 2014: TroidVPN now works on Android KitKat
Well, TunnelGuru has finally decided to attend to their customers on Android KitKat by adding L2TP & PPTP protocols to their VPN services. Setup is pretty easy as you'll see in continuation BUT do please note that these new protocols don't allow for use of free browsing hacks or what have you.
These new protocols only allow you to use the VPN service for what it was originally meant to do which is to give unfettered access to over 99% of all websites and online services.
Once again, I repeat, there's no free browsing attached to these protocols.
Let's proceed
NOTE: You might have to click on the screenshots to see them clearly if you're on a mobile device
Go to Settings >> More >> VPN. If your device doesn't have an unlock password, PIN or pattern, you'll be prompted to setup one before you'll be granted access to the VPN settings page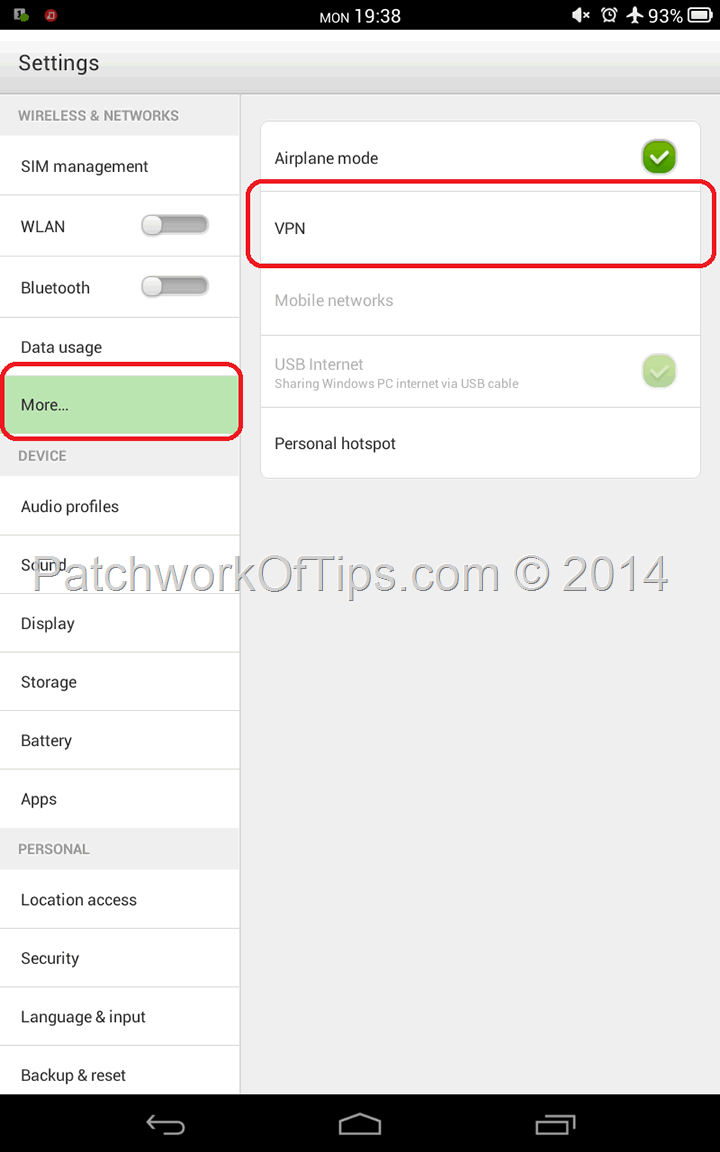 Once you're in, click on the + sign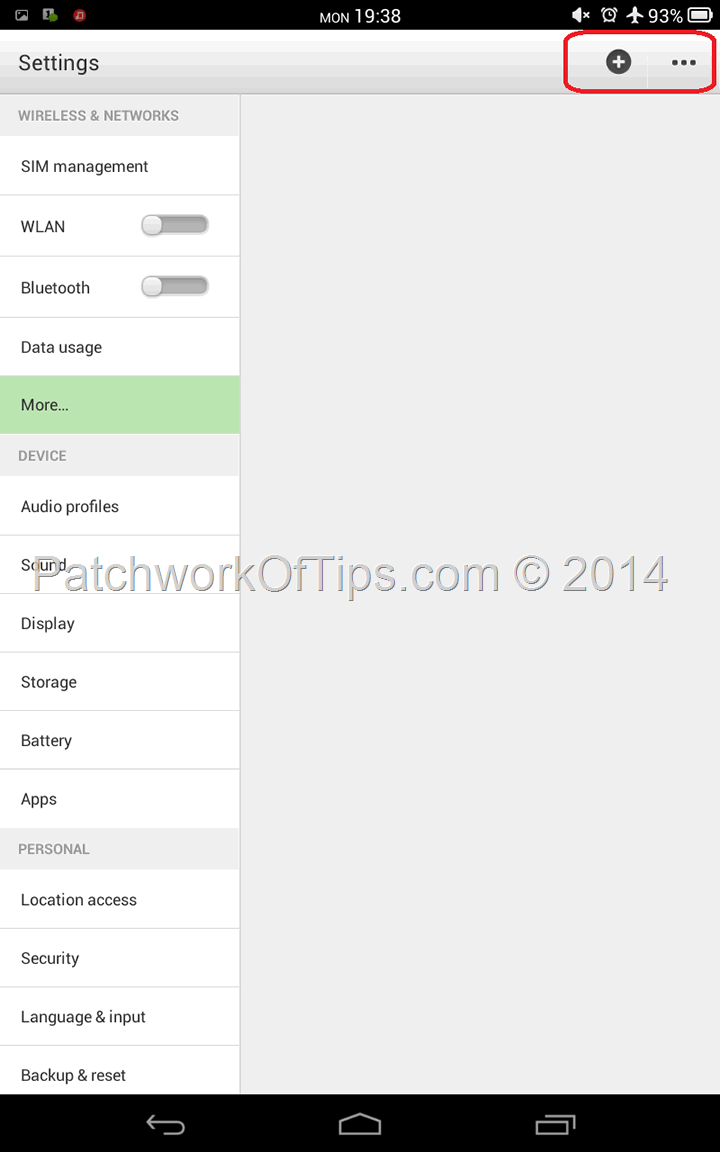 Setup your TunnelGuru VPN profile as shown below. Under IPSec pre-shared key, enter tunnelguru then save your profile.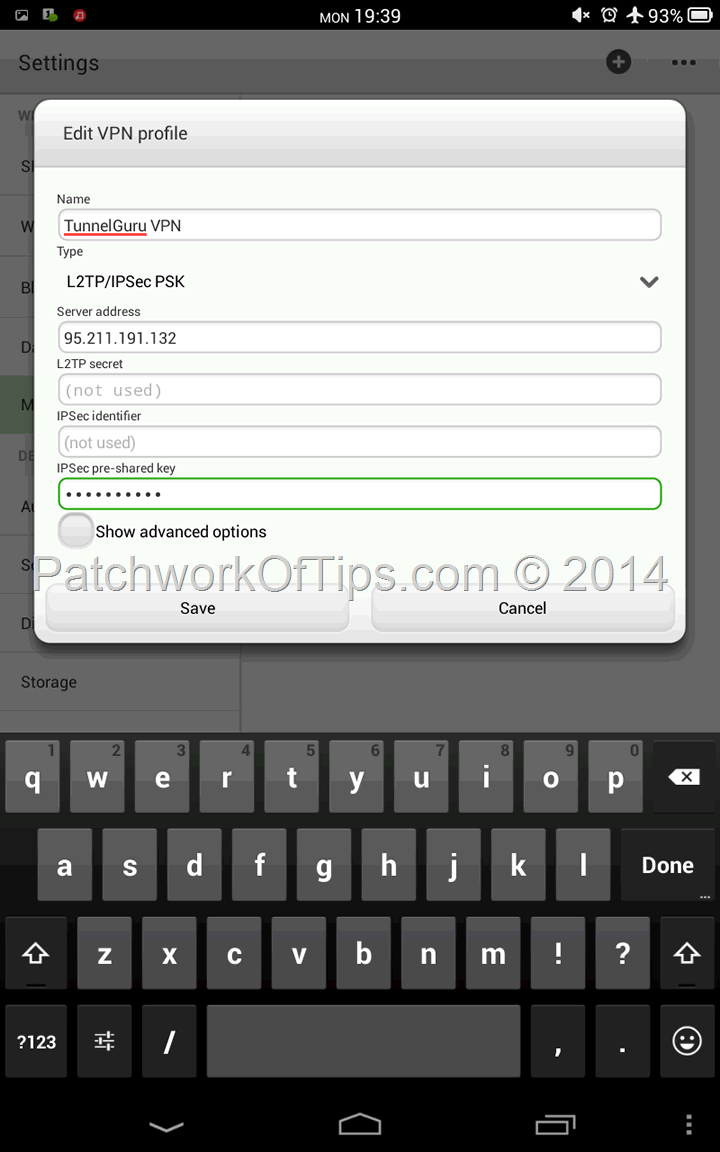 Next, click on the profile you just created and enter your username and password when prompted. Don't forget to tick the Save account information box so that in the future, you won't have to enter the username and password again to connect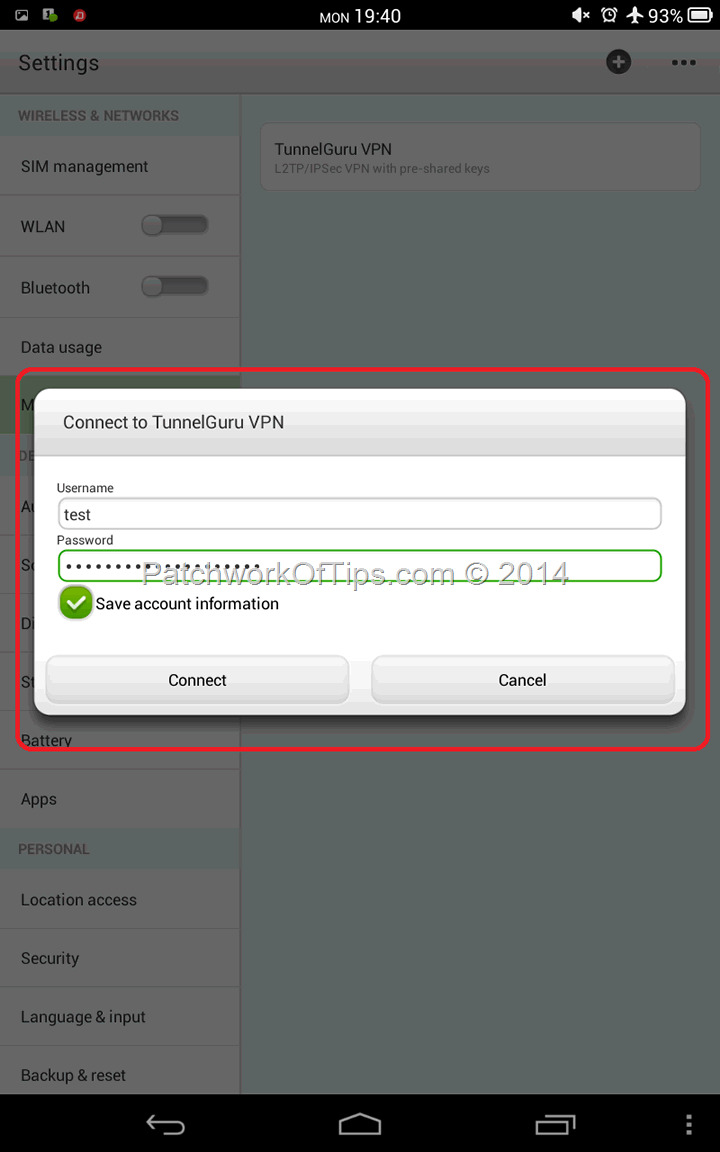 Hit the connect button and wait for a few seconds for the connection to be established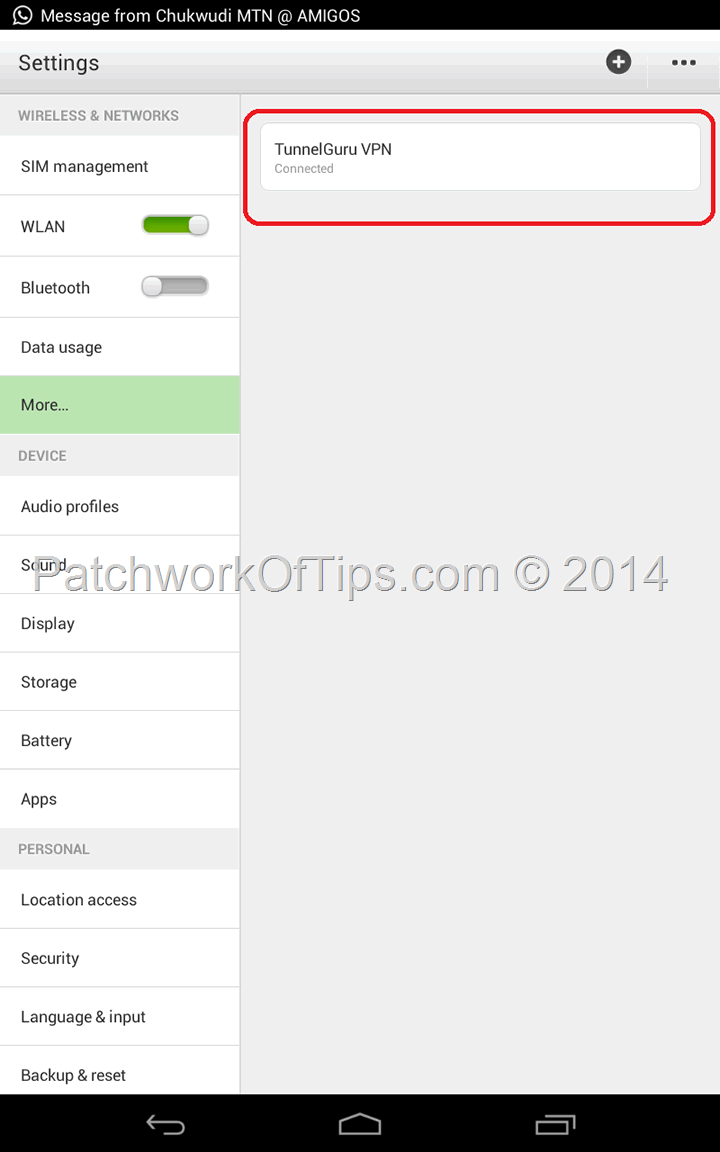 You're now successfully connected to TunnelGuru's VPN service and you can browse any website of your choice without restriction. To disconnect, go to the notification drawer and tap the VPN activated notice there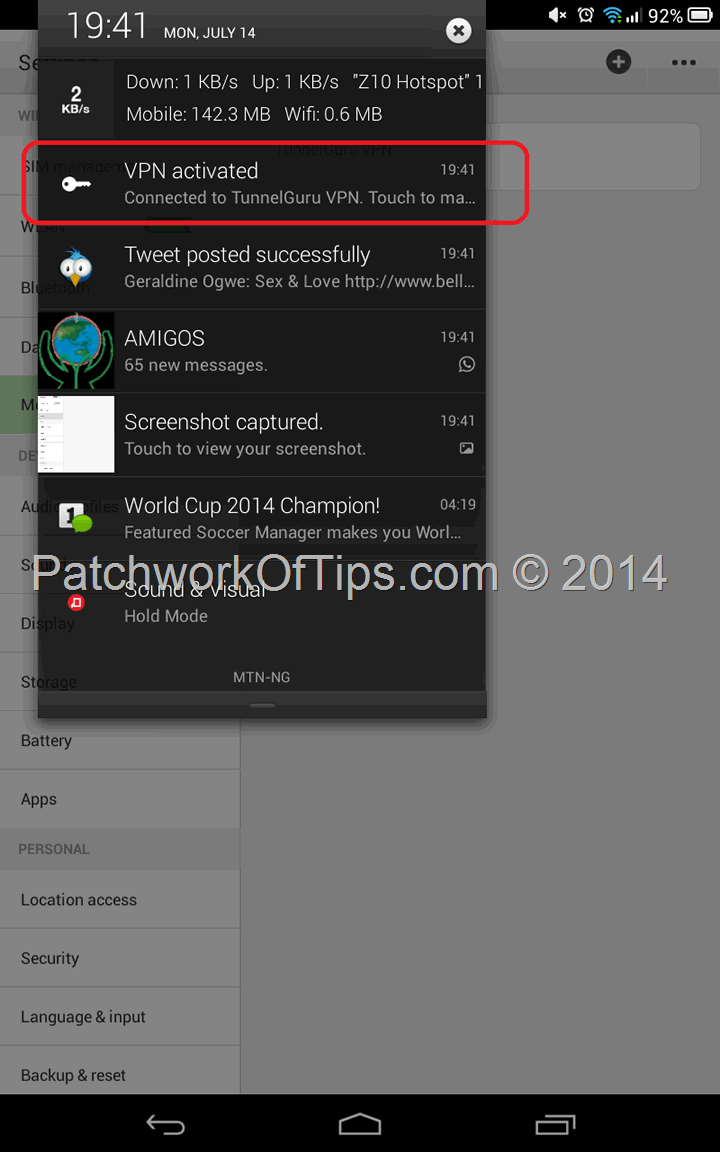 Click on disconnect and the connection to the VPN service will be cut off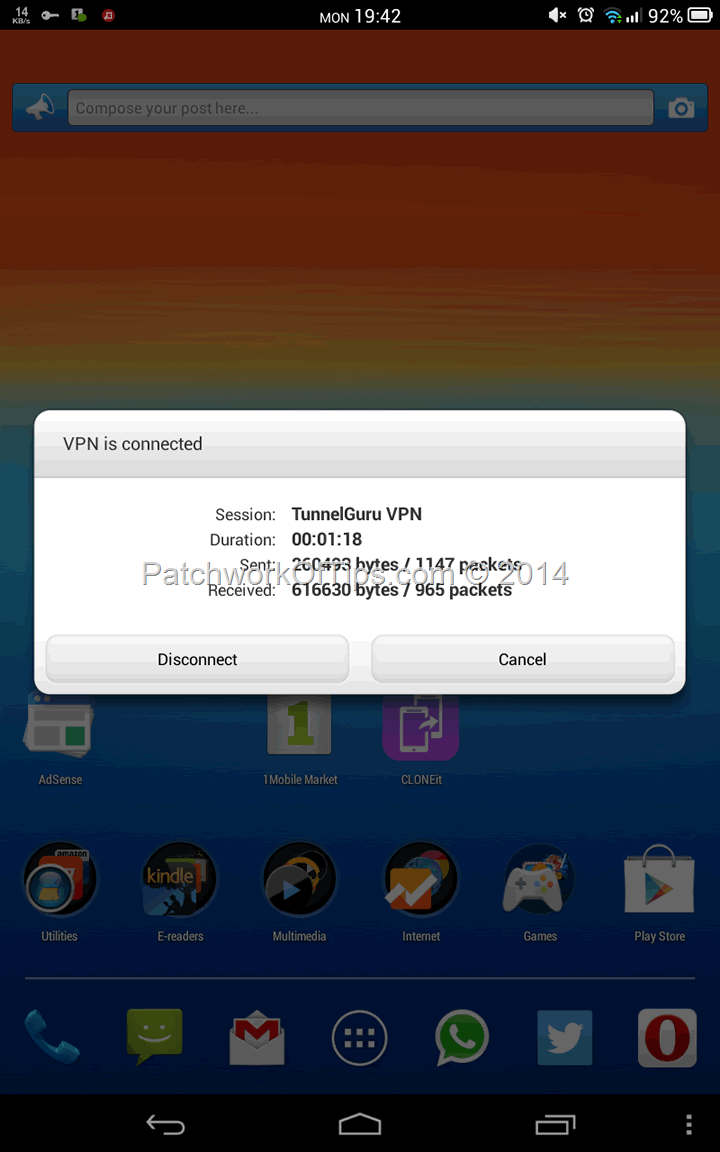 For now the current VPN server is hosted in the Netherlands so you might have issues accessing some US or UK only content. Hopefully TunnelGuru will be releasing their US/UK hosted servers soon.
If you are really in dire need of viewing US/UK only content and this setup ain't working for you, do please check out VPNBook's free PPTP access (Note: They tend to change passwords every 1 –2 weeks so if you someday have issues connecting to their servers, check to see if the passcodes have been changed)
Questions and comments are welcome as always. I'm out.
Please rate & share this article to help others. Thanks
You'll also like: