NOTE: The solution below assumes that at some point in time, you must have rooted your Samsung device or the person you bought it from rooted and unrooted it before selling it to you. If you bought the device new from an authorized dealer and have this issue, kindly take it back to the store.
Each time I get a new android device, the first thing I do is root it so I can push it to its limits with certain third party android apps.
Rooting does come with its problems. For example, with Samsung once you're rooted, you can't get OTA updates again.
Using Triangle Away app, you can remove root on Samsung devices and also clear/reset the binary counter.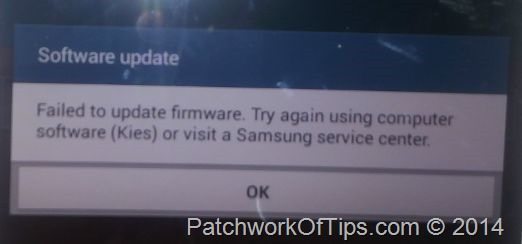 I did this on my Samsung Galaxy device and then the phone started to detect and download OTA updates immediately. Now the problem that came up was at the point of installing the downloaded update. The phone would reboot, commence update process and quarter way through would stop abruptly, reboot again and then show the error which you see in the image above
Software Update: Failed to update firmware. Try again using computer software (Kies) or visit a Samsung service center
After trying Kies and several fixes in vain, flashing the phone fixed it. Apparently the rooting or unrooting process, alters a key file that Samsung needs when carrying out OTA updates so flashing the device restores that file.
BACKUP YOUR DEVICE BEFORE PROCEEDING
Simply download the appropriate firmware for your device via sites like Sammobile or Live Samsung Updates and flash it using ODIN.
Read: How to Flash Firmware using Odin for Samsung Devices
I downloaded and flashed the exact firmware that was currently installed on my device.
Once you're done flashing the phone, try the OTA updates again and it should be working just fine.
So hope this fix works for you too.
Please rate & share this article to help others. Thanks
You'll also like: