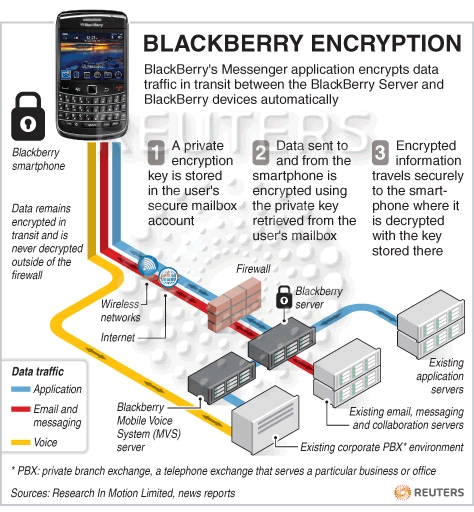 Image Credit: Reuters
The BlackBerry brand has been synonymous with data security for years now even beating top financially viable platforms such as the iOS and Android. Recently I started getting curious as to how the whole security thing works on the BlackBerry platform and I must say that I was very much surprised to learn that BlackBerry Enterprise Server subscribers/users are the ones that actually enjoy this data security. Those of us BlackBerry Internet Service subscribers only get to enjoy the so – so encryption of BBM data transmission.
Do please read : What Information Is Encrypted On Your BlackBerry
Aside from blocking unauthorized access to your emails and BBM messages via encryption, your BlackBerry device is somewhat ripe for the plucking if you get what I mean thus securing the content of the BlackBerry smartphone as well as the phone itself lies in your hands as the end-user of the device.
Here are a few important tips to get you started with tightening the security around your BlackBerry device.
INSTALL BLACKBERRY PROTECT
Made official sometime around May 2011, this app makes it possible to remotely control your device from anywhere with the power of the internet. Data on your BlackBerry such as contacts, SMS, tasks, memos, passwords etc are backed up to RIM servers for future access whenever you need them. If your phone gets stolen or missing, you can easily wipe every single data on it, lock the device and even pin-point it's current location without fuss!
Do please read: Official Five Features of BlackBerry Protect
NOTE: in a bid to get more people hooked unto the BlackBerry platform, data plans such as the BlackBerry Complete and Social plans were created. These plans cost half the normal price for a regular BlackBerry Internet Service plan with the same amount of data BUT lack certain features. Access to BlackBerry Protect is one of those missing features. If you cherish your BlackBerry device especially if you bought it brand new with your hard earned money, it's in your own best interest to stick to the Full BIS plan and enjoy the absolute peace of mind the BlackBerry Protect app offers.

Also BlackBerry Protect is not open to BlackBerry Enterprise Server users
TURN OFF BLACKBERRY MESSENGER  "Show What I'm Listening to " and "Show My Location/Time zone" FEATURES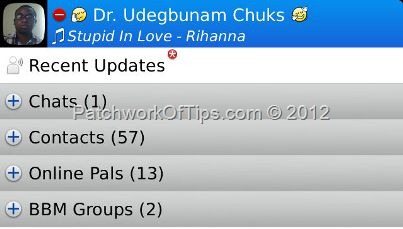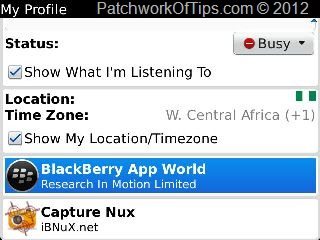 Imagine having these features turned on and you're *enjoying* an x-rated movie with x-rated title on your phone. Your BlackBerry messenger status will automatically broadcast this to your BBM pals and this could have dire consequences if someone such as your boss, pastor, partner or your folks are on your friend list *covers face*
In some cases, you wouldn't like your contacts knowing that you're currently out of the country or you wouldn't like them knowing your current location, turning off the time zone feature solves that security issue :)
LOCK DOWN YOUR ENTIRE BLACKBERRY DEVICE OR SELECT FOLDERS AND APPLICATIONS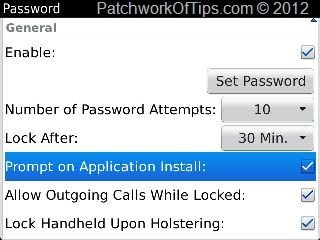 Whether you like it or not, peeps would sometimes want to check out your device to see how it functions and what have you. If you've got sh*t to hide on your phone like a sex tape or important financial data, you MUST install an application that would enable you block access to those secret files and what have you. One of such apps is the App Lock Free which has a free version currently available via the BlackBerry Appworld.
If you're one of those paranoid folks who doesn't let anyone touch his/her phone, activating the Device password will solve your issues instantly.
For OS 6 and 7 users, simply go to Options – Security – Password to set your device password.
NOTE: If you set a password for your device and make the mistake of forgetting it, the only way to get back access to your phone is by wiping every single data on it. That is, after a certain number of wrong password entries, the OS will automatically delete every data on the phone and then reboot itself. This feature was made so in the event that someone steals your phone and tries to access the content within.

With this feature enabled, I seriously advice you always backup your data using the BlackBerry Desktop Manager software 'cause some retard might decide to fool around with your phone, feeling like a hacker and end up wiping your precious data!
ENABLE ON DEVICE DATA ENCRYPTION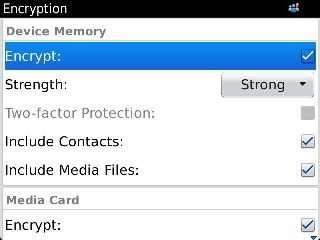 This tip comes last cause I've personally never used it given that it is widely known to slow down the device and zap extra battery juice to function properly. You can read more about this security measure at 3 Million reasons to encrypt your Blackberry
For OS 6 and 7 users, simply go to Options – Security – Encryption to set your device password.
Well folks, there you have it. Four security tips to make your blackberry device a lot more secure than it currently is. Feel free to share your tips with us by leaving a comment below.
Please rate & share this article to help others. Thanks
You'll also like: